Brushless Gearmotors handle temperatures up to 155 deg C.
Press Release Summary: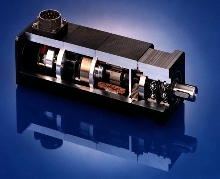 TitanTRUE Brushless Gearmotors are available in 2, 3, and 4 in. frame sizes with continuous rated torque up to 60, 127, and 244 in-lbs, respectively. Power transmission consists of True Planetary gearhead; CE rated brushless servomotor; optional emergency brake; and commutating, incremental encoder. Enclosure's modular design utilizes bearing seals, gaskets, and o-rings to provide IP64 and NEMA-13 protection.
---
Original Press Release:
TitanTRUE Brushless Gearmotors

Ronkonkoma, NY - Thomson Micron* -- a leader in power transmission products and reliable feedback solutions -- introduces an advancement in power transmission design.

The TitanTRUE line of Brushless Gearmotors boasts a high efficiency, high torque output, brushless servo design that is uniquely compact, yet modular. Key performance and envelope specifications include:

* Continuous rated torque up to 7 Nm (60 in-lbs) for a 60 mm (2") frame size with 5:1 reduction
* Continuous rated torque up to 14 Nm (127 in-lbs) for a 90 mm (3") frame size with 5:1 reduction
* Continuous rated torque up to 28 Nm (244 in-lbs) for a 115 mm (4") frame size with 5:1 reduction
* Space-saving lengths as small as 128 mm (5.0") for a 60 mm (2") frame size (including single-stage gearing, short-stack motor and commutating encoder).

Power Transmission Components
TitanTRUE Gearmotors allow customized selection of four basic power transmission components: Gearhead, Motor, Brake and Feedback device.

* The True Planetary* Gearhead features a keyed, stainless steel, one-piece output shaft/cage assembly with standard metric (sizes 60, 90 and 115), or inch (NEMA sizes 23, 34 and 42) pilot and mounting interfaces that allow quick, standardized mounting. The design includes a dual deep-groove ball bearing system for maximum allowable shaft loading and prolonged life. Hardened precision planetary gearing (HRC55-60) provides the benefits of high torque, low-noise, high efficiency, load sharing, and lube-recirculation. Standard ratios include 9 different reductions ranging from 3:1 through 100:1 (other ratios available upon request).

* The CE rated Brushless Servomotor features a rare earth Samarium Cobalt magnet design, rather than the more common Neodibnium magnet design. The enhanced magnets minimize the natural degradation of torque output that occurs as the temperature rises during continued operation, as well as generate among the highest torque output per unit of volume available. The rotor has an 8-pole design on the smaller sizes and a 12-pole design on the larger sizes for smooth output. Stator endturns are protected with special materials to eliminate potential output losses. The stator also features an embedded NTC thermistor for monitoring purposes, while the design allows for a temperature rise up to 155 deg C. The motor is available in three stack lengths.

* The optional Emergency Brake generates a holding torque, which rivals the continuous torque supplied by the motor and is essential in applications with vertical axis loading, or those where safety and equipment concerns are prevalent. These spring-set electromagnetic components are configured for power-off braking with rapid response rates. A unique and innovative 'extreme torque' braking material is also available which further increases holding torque by approximately 3 times!

* A commutating, incremental Encoder provides positional and velocity feedback for the TitanTRUE Gearmotor. The optical encoder has a standard 1000 line per rev resolution with 3-channel (A, B and index) quadrature output. The digital output signal is TTL compatible, and includes a line driver that boosts signal strength and increases immunity to noise over long cable lengths. It is assembled with an integral PC board, which generates simulated Hall effect signals to initiate winding recognition for the motor. For applications where environmental extremes are typical (i.e., temperature, vibration, shock, humidity, radiation), the TitanTRUE Gearmotor is optionally equipped with a hearty high-accuracy resolver with analog output.

Modular Design
The TitanTRUE Gearmotor was designed with a modular, segmented extrusion. This feature allows for rapid delivery of customized assemblies from Thomson Micron. Even with its segmented design, TitanTRUE provides an enclosure that is well protected from contaminants. Through the use of bearing seals, gaskets and o-rings, the enclosure provides IP64 and NEMA-13 protection on standard models. The TitanTRUE was also engineered to be economical and to maximize compactness and ease of use. Full integration and innovative assembly techniques have resulted in some of the shortest gearmotor assemblies available when compared with similar models. The durable 'military style' (MS) connectors have been specified to allow for quick and easy integration to the cables and AXI-PAK* / OMNIDRIVE* controllers currently supplied by Thomson Industries. Optionally, the gearmotors are capable of being integrated with drives provided by other manufacturers.

Thomson Micron's TitanTRUE Brushless Gearmotors combine technological innovations with sound application conveniences that make them the logical selection for high torque applications in industries including factory automation, packaging, heavy industry, paper converting and beyond.
More from Software