Brushless DC Servo Motors are rated for 3,000-12,000 rpm.
Press Release Summary: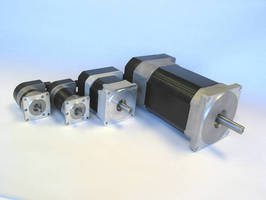 Suited for commercial and light-industrial OEM applications, I Series motors are available in NEMA frame sizes 17, 23, 34, and 56 and in multiple lengths for each, offering performance capability from 40-1,700 W continuous. They can provide continuous stall torque from 1-58 lb-in. and peak torque from 3.1-174 lb-in., depending on model. Motors can be customized with gearing, optical encoders, holding brakes, cables, and unique features to meet specific application requirements.
---
Original Press Release:

Pittman® 'I Series' Brushless DC Servo Motors Optimized for Performance, Extended Service Life, and Value



KENT, OH-Pittman® brand "I Series" brushless motors equip machine designers with a family of motor solutions created for commercial and light-industrial OEM applications. Motors are available in various sizes offering a wide range of performance capability from 40 Watts to 1700 Watts continuous. Brushless technology delivers extended service life, efficiency, improved performance, and superior machine control.

The I Series motors were developed using the latest magnetic tools and materials. Their magnetic core is optimized to favor power density and efficiency while minimizing cost. The winding system allows for a wide range of operation on machine bus voltages from 12 VDC to 325 VDC. The choice of materials, including bearings, Hall devices, and insulation promote extended service life.

These small and powerful motors are available in NEMA frame sizes 17, 23, 34, and 56 and in multiple lengths for each. Depending on model, they can provide continuous stall torque from 0.117 Nm to 6.6 Nm (1 lb-in to 58 lb-in) and peak torque from 0.35 Nm to 19.7 Nm (3.1 lb-in to 174 lb-in). Rated speeds for this family of motors range from 3000 RPM to 12000 RPM.

Applications include power transmission, traction, and motion control. Whether powering a paint pump, driving an autonomous robot, or positioning a semiconductor wafer, I Series motors offer an ideal balance of performance and value. Other common applications include medical and biotech, business machine, factory automation, textile, HVAC equipment, and pumps.

Motors are available from stock and can be customized with gearing, optical encoders, holding brakes, cables, and unique features to satisfy application needs.
AMETEK Technical & Industrial Products is a unit of AMETEK, Inc., a leading global manufacturer of electronic instruments and electromechanical devices with annual sales of more than $2.5 billion.

Contact Shannon Booth,
AMETEK Technical & Industrial Products,
627 Lake Street, Kent, OH 44240.
Phone: 330-673-3452.
Fax: 330-677-3306.
Web site: www.ametektechnicalproducts.com

More from HVAC