Brushless DC Motors offer CANopen networking capabilities.
Press Release Summary: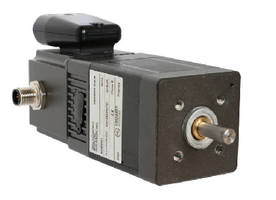 With CANopen interface, up to 127 Brushless DC Motors can be connected with single, shielded 2-wire cable. Data may be transmitted at speeds up to 125 kBd at distances over 550 yards. At lower baud rates, transmission distance can exceed 3 miles, making communications flexible to virtually any location. Able to withstand up to 80 Vdc regenerative energy, CANopen-enabled motors utilize 2 safety inputs to cut down power in motor even if microprocessor has failed.
---
Original Press Release:

New CANopen® Networking Capabilities for Crouzet Brushless DC Motors Offer Greater Control and Safety



VISTA, Calif., – Offering greater motion control and automation integration, Crouzet Motors introduces availability of CANopen® technology for its Brushless DC Motors. The new communications protocol offering allows design engineers to connect multiple Crouzet brushless motors to the various components in their system, reducing wiring and installation costs while at the same time increasing system communications and integrity.



Crouzet's CANopen interface permits connection of up to 127 brushless DC motors with a single, shielded two-wire cable.  Data may be transmitted at speeds up to 125 kBd at distances over 550 yards.  At lower baud rates, the transmission distance can exceed three miles, making communications flexible to virtually any location.  Under the communications protocol, motors can be controlled separately or together with high accuracy. 



A unique feature of Crouzet's Brushless DC motors with CANopen is that they can operate over a wide voltage range, withstanding up to 80 volts DC regenerative energy.  In addition, these new CANopen enabled motors utilize two safety inputs to cut down power in the motor even if the microprocessor has failed.



Embedded fieldbus control brings a number of other advantages that include integral protection for maximum life in severe environments, excellent reliability of data transmission, and immunity to external noise and vibration. 



Crouzet's Brushless DC motors with CANopen interface are well suited for use in a variety of demanding applications  ranging from medical, transportation, foodservice and precision agricultural equipment to packaging machinery, solar tracking, defense and industrial automation.



"By allowing our brushless motors to communicate with other components in the user's system, CANopen provides greater flexibility and data control than ever," says John Morehead, Crouzet Motors National Sales Manager.  "When you combine these advantages with Crouzet's already high performance brushless motor features like IP65 environmental protection and high torque density, users will find CANopen to be an excellent new tool for more readily automating their systems."



For more information, view webpage, or contact Crouzet Motors, Toll-free: (800) 677-5311; E-mail: dcmind@crouzet.com, Web:  http://www.crouzet.com/english/products/crouzet-motors/dcmind-brushless/innovative-dc-motors-brushless.htm



About Crouzet Motors

All around the world for more than 50 years, Crouzet Motors has been providing engineering expertise, high quality support and a complete offer of standard and customized direct drive and geared motors for all applications where performance is the key issue.



Crouzet Motors is a brand of Custom Sensors & Technologies (CST).



www.crouzet.com



About CST

Custom Sensors & Technologies (CST) is a global specialist in designing and manufacturing sensors, controls and actuators.



Through its brands, BEI Kimco, BEI Sensors, BEI PSSC, Crouzet, Crydom, Kavlico, Newall and Systron Donner Inertial, CST offers a wide range of reliable and efficient components dedicated to the Aerospace & Defense, Transportation, Industrial, Medical and Energy & Infrastructure markets.



Through the expertise, diversity and agility of its 4,400 employees worldwide, CST is focused on the satisfaction of its customers. Committed to excellence, with sales of $590M US in 2014, CST is the dependable and adaptable partner for the most demanding applications.



www.cstsensors.com