Brushless DC Motor suits portable applications.
Press Release Summary: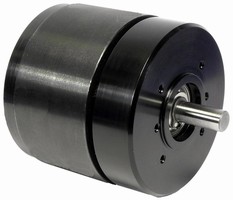 Supplied in 2.626 in. dia x 2.48 long package that weighs 30 oz, TG 2340 delivers 500 W (0.68 hp) continuous shaft output power at 48 V and 600 oz-in. peak torque. Max motor efficiency is 90%, and peak system efficiency using trapezoidal controller is 85%. Due to rigid ironless core rotor that eliminates hysteresis losses and cogging torque, motor offers smooth acceleration. Airflow over interior and exterior coil surfaces promotes optimal heat dissipation.
---
Original Press Release:

Thingap LLC Announces: 500 Watt TG 2340 Brushless Motor



VENTURA, CALIFORNIA - May 7, 2008 - ThinGap LLC, the leader in high power density DC motors, today announced the TG 2340 Brushless DC Motor, delivering 500 watts continuous shaft output power and 600 oz-in peak torque in a package with significantly less volume and weight than traditional brushless DC motors.

"The TG 2340 brushless motor is the most powerful motor in our NEMA 23 range" said Rean Pretorius, CEO, ThinGap LLC. "ThinGap delivers innovative motor technology, allowing our customers to reduce package size and weight and offer cost efficient products."

The small package of the TG 2340 - 2.48" long by 2.626" diameter - weighs 30 oz. and delivers 500-watts (0.68 HP) of continuous shaft power at 48-volts. Maximum motor efficiency is 90% and peak system efficiency using a trapezoidal controller is 85%. Typical of most ThinGap motors, the TG 2340 features linearity between torque and current allowing very high peak torque of 600-oz-in. With a robust and rigid ironless core rotor that effectively eliminates hysteresis losses and cogging torque, the TG 2340 allows extremely fast and smooth acceleration. Airflow over the interior and exterior coil surfaces provides superior heat dissipation.

The power to size and weight advantage of the TG 2340 DC motor provides a key advantage, especially for portable and battery powered applications comprised of piston pumps/ compressors. The high rotor inertia of the motor is useful for smoothing the current waveform with pulsating loads produced by reciprocating equipment. This allows for good efficiency over a wide load range and provides longer operating time between battery charges. ThinGap motors are being used in medical compressor applications such as portable oxygen concentrators.

For the full specs on the TG2340 BLDC motor click on: http://thingap.com/pdf/tg2340ds.pdf.
For more information, please visit www.ThinGap.com.

About ThinGap
ThinGap LLC designs and manufactures an innovative line of standard and custom brushless and brush motors for applications that require high power, efficiency, low weight, and small package size. The technology helps OEM's innovate more powerful, efficient, responsive, controllable and precise products not possible with the use of conventional motors.

Since its first production motor was introduced in 2000, ThinGap has developed a complete line of brush and NEMA 23 brushless motors for medical industry applications and such industrial applications as handheld power tools and fan/blower/compressor motors.

ThinGap's technology allows high copper-packing density and higher copper-to-total stator-volume ratio than motors with conventional wire windings. By replacing the iron core/laminations and wire windings used by conventional motors with a precision thin copper sheet replaces, the motors provide higher power-to-weight ratios, a wider range of speed and torque capabilities, improved heat dissipation and lower electrical resistance. ThinGap has been granted seven patents with eighteen patents pending.

More from Mechanical Components and Assemblies