Brushless DC Micro Gearmotor comes with/without control driver.
Press Release Summary: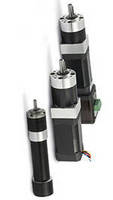 Available in 3 sizes, 24 Vdc BLDC series is equipped with Hall Sensors, offers torque from .425-3.80 lb-in., and can be supplied with integrated control (IE version) or external drive control. Planetary gearboxes, lubricated with grease, offer various reduction ratios, with 72 total from 3.7:1 (single-stage) to 2,076:1 (4-stage). Right angle worm gearboxes are offered in CM26 and CM30 sizes, respectively 26 and 30 mm center to center distance, with ratios from 5:1 to 100:1.
---
Original Press Release:

Brushless DC Electric Micro Gearmotor with or without Integrated Control Driver



Compact, Attractive Cost BLDC Gearmotor Solution

Intecno, a member of the Transtecno Group, introduces a new line BLDC brushless micro gearmotors. This new series completes range of DC micro gearmotors Intecno has to offer.

"These gearmotors offer ideal solutions for applications in industrial automation, automatic doors and windows, vending, packaging and many others," said Moreno Ferrari, General Manager


3 motor sizes available

24 Vdc

Rated torque range from .425 in-lbs (0.05Nm) to 3.80 in-lbs (0.43Nm)

Can be supplied with an integrated control (IE version) or an external drive control

Equipped with Hall Sensors for low cost and compactness

Optional Right Angle Worm or Planetary Gearboxes

"These motors are low voltage which optimizes safety in the work place, particularly in applications where the worker could be in direct contact with the motor," added Ferrari

Benefits for using a BLDC motor vs. a DC motor:

Very long life

High efficiency

Electronic commutation and motor control by digital sensors (closed digital loop)

Wide speed range

Maintenance free

Planetary gearboxes offer a wide range of reduction ratios, with a total of 72 ratios from 3.7: 1 (1 stage) to 2076:1 (4 stages). These planetary gearboxes are lubricated with grease and are therefore maintenance-free.

Intecno planetary gearboxes can be customized to the application due to the possibility of using metal, plastic or material mix versions. The LN (low noise) version is also available, which significantly lowers the gearbox noise and is particularly suited for medial applications.

The right angle worm gearboxes are offered in two sizes CM26 (26mm center to center distance) and CM30 (30mm center to center distance) with ratios ranging from 5:1 up to 100:1.

Ferrari added "3 sizes of BLDC motors, planetary or right angle worm gearboxes, and a wide range of gearbox ratios equals endless options for any application. Tell us what specifications you must have and we will be able to find a gearmotor to fit your needs."

For more information visit www.intecno-srl.com or contact Jon Roetman at usaoffice@transtecno.com or call 712-540-9080

More from Agricultural & Farming Products