Brushes prepare surfaces for finishing.
Press Release Summary: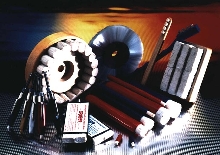 Fiberglass brushes roughen surfaces to enhance adhesion of solder, paint, and epoxy. Other uses include cleaning electrical contacts, removing rust, removing epoxy and paint, and cleaning injection molds and foil stamping dies. Brushes are suitable for use in printed circuit board industry for PC board rework, including flux removal, edge connector cleaning, trace cleaning for soldering, and tarnish removal.
---
Original Press Release:
Surface Preparation Brush

The Eraser Company, Inc. offers Fiberglass Surface Preparation Brushes. These unique brushes are excellent surface preparation brushes for soldering, painting and epoxying. The roughening of the surface enhances adhesion of paint, solder and epoxy. Other uses include cleaning electrical contacts, removing rust, removing epoxy and paint, and cleaning injection molds and foil stamping dies. The brushes are used in the printed circuit board industry for PC board rework including flux removal, edge connector cleaning, trace cleaning for soldering and tarnish removal. Eraser offers a wide variety of abrasive brushes for all surface preparation.

Based in Syracuse, NY since 1911, The Eraser Company manufactures a wide-range of industrial products, including wire and cable cutters and strippers, wire twisters, wire brush wheels, fiber optic tools, dereelers, infrared heating equipment, measuring tools, and fybrglass(R) brushes. The company is ISO 9001 certified. The company offers Free E.S.P. (Eraser Sample Program). Send a 5-10 foot sample of your material and Eraser will recommend the best solution for your wire and cable processing needs from its line of more than 200 products. If the standard products cannot meet your specific application, Eraser will custom design a solution for you. For more information on Eraser's entire product line or to place an order on-line, visit www.eraser.com.

The Eraser Company, Inc.

PO Box 4961 Oliva Drive

Syracuse, New York 13221

Phone: (315) 454-3237

Fax: (315) 454-3090

E-Mail info@eraser.com

www.eraser.com

More from Machinery & Machining Tools