Applicator / Finishing / Cleaning Brushes
Brushes offer diamond abrasive floor preparation system.
Press Release Summary: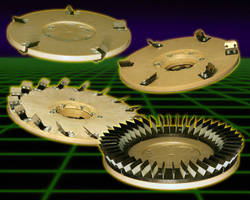 Diamabrush(TM) System is comprised of 4 tools, each designed to be used on standard low pressure commercial cleaning machines for concrete floor polishing, mastic removal, and hardwood prep. A 25 grit spring metal tool prepares concrete floor for epoxy recoating, and 6 tools, from 100-2,00 grit, are used to grind and hone. Other offerings include Diamabrush(TM) Mastic Removal Tool and Diamabrush(TM) Hardwood Prep Tool to remove polyurethane off of hardwood floors.
---
Original Press Release:

Malish Introduces Diamabrush(TM) Diamond Abrasive Tools



Willoughby, OH. . .The Malish Corporation, a global leader in the design and manufacture of floor machine and surface cleaning brushes, introduces Diamabrush(TM), a unique diamond abrasive floor preparation system for concrete floor polishing, mastic removal and hardwood prep.

The Diamabrush(TM) System is comprised of four different tools, each designed to be used on standard low pressure commercial cleaning machines including single discs, walk behind auto scrubbers and ride-on auto scrubbers.

For preparing a concrete floor for epoxy recoating, the Diamabrush(TM) System offers a 25 grit spring metal tool. This one-of-a-kind brush flexes to hit the highs and lows of the epoxy floor to scarify and prep the epoxy for a recoat.

For concrete polishing, the Diamabrush(TM) System offers a six tool system to grind and hone trawled concrete floors: 100 grit metal, 100 grit polymer, 200 grit polymer, 400 grit polymer, 1000 grit polymer, and 2000 grit polymer.

To remove mastic, the Diamabrush(TM) Mastic Removal Tool is specifically designed to do the job efficiently after a VCT, tile floor or commercial carpet pull-up.

Finally, the Diamabrush(TM) Hardwood Prep Tool removes polyurethane off of hardwood floors. A 50 grit metal blade makes easy work of removing the black felt and mastic off of a wood floor that formally had linoleum or tile floor glued to the top of the wood floor.

Fred Lombardi, Vice President of Sales and Marketing noted, "The Diamabrush(TM) System will truly revolutionize floor preparation. In addition, this product line extends our reach to new markets and further positions Malish as the global leader in engineered brushes."

For more information on the new Diamabrush(TM) Tools, please contact The Malish Corporation.

Company Contact:

Stacey Pfeifer

Customer Service/Marketing Manager

440.510.7142

staceyp@malish.com

4260 Hamann Parkway

Willoughby, OH 44094


More from Electrical Equipment & Systems