Applicator / Finishing / Cleaning Brushes
Brushes for Daimer®'s Pro Plus Steam Cleaner Line Set a New Low Price Point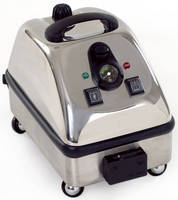 Stainless steel, brass, and nylon detail brushes are available for $2.50 each and match the quality of rival products being sold for $20.00.

WOBURN, MA, U.S.A. -- Daimer Industries, Inc.®, known internationally for institutional cleaning equipment, is selling detail brush replacements for its entry level KleenJet® Pro Plus vapor steam cleaner machines for $2.50 each, a fraction of what competitors charge for comparable products.

"Often vendors of steam cleaner systems will charge $20 for detail brushes that we sell for $2.50," noted Daimer.com pricing spokesman Matthew Baratta. "Over the course of a machine's life, the savings add up to hundreds or even thousands of dollars, or enough for two of our Pro Plus machines."

Entry Level Steamer Cleaner Machines, High-End/Affordable Brushes

One secret of companies that sell steam cleaner systems: tiny detail brushes, one of the major consumables for the machines, account for nearly 98 percent of the accessories acquired over the life span of a floor steam cleaner.

Daimer® is now offering a full line of high-quality, low-priced detail brushes for its entry level Pro Plus home and business steam cleaner line, the Pro Plus 200S and Pro Plus 300CS. The machines offer up to pressure levels of 75 psi and water capacities of 4 liters. The 300CS adds an automatic refill tank for continuous cleaning.

The replacement brushes are available with either stainless steel, brass or nylon bristles. The stainless steel brushes offer maximum abrasion for applications such as cleaning food grills and other restaurant surfaces.

Brushes with brass bristles are designed for more delicate surfaces like removing dirt and residues from other metal surfaces. Nylon, the softest bristles and Daimer®'s most popular style, are engineered the most sensitive surfaces and finishes that might be harmed by a metal bristles.

Daimer® provides a complete line of accessories and add-ons for its KleenJet® brand portable steam cleaner line. Some systems can be retrofitted with a chewing gum removal unit that is effective on most hardened surfaces.

Other KleenJet® brand steam cleaner machines are outfitted with steam-heated drain cleaners, squeegees and floor tools.

For additional information about the new floor steam cleaners and Daimer®'s carpet steam cleaner machines visit www.daimer.com/steam-cleaners/ or call Matthew Baratta at (888) 507-2220. The steam cleaners are available to customers in most countries in 50 Hz and 60 Hz configurations and in power levels ranging from 1600 to 40,000 watts. Minimum order quantities may apply.

About Daimer Industries, Inc.®: Daimer®, www.daimer.com, is a major supplier and worldwide exporter of the cleaning industry's leading line of KleenJet® steam cleaners/vapor steam cleaners/steam cleaning equipment; Super Max(TM) commercial and industrial pressure washers, including cold water, hot water, and steam pressure washing machines; XTreme Power® floor cleaners, including carpet cleaners, hard surface cleaners, and floor buffers/scrubbers/burnishers; and the line of Micro-Blasting® Eco-Green® environmentally friendly cleaning products that employ unique technologies and a patented, proprietary chemistry.

More from Portable Tools