Brush Vacuum Motors offer extended life via curved brushes.
Press Release Summary: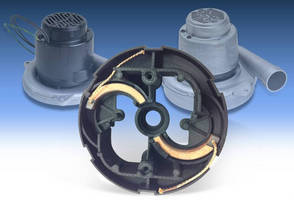 Available with both single- and 2-stage fan systems, Eternity Brush motors feature wet bearing protection system and fan diffuser designs that prevent failures from grease washout. These 120 and 230 V motors also employ curved brushes with life ratings from 1,460–3,075 hr that let users operate equipment until brushes are completely worn, signaling motor has reached end of its maximum life. Motors suit applications that require high volume air flow or operate continuously.
---
Original Press Release:

Ametek's Patented Eternity Brush Motors Offer Twice the Life as Conventional Vacuum Motors



KENT, OH–Eternity Brush vacuum motors from AMETEK Floorcare Specialty Motors are designed to provide on average twice to three times the lifespan as traditional straight brush series universal vacuum motors.



For series universal motors longer brushes mean longer life.  Typically, brush length is limited by the effectiveness of the spring that holds it in place.  AMETEK solved this problem with a curved brush that allows it to increase brush length on its Eternity Brush motors by as much as two thirds.



The result is a life span that is two to three times that of traditional straight brush-design motors. In 12-amp applications, the curved Eternity Brush translates into an average of 1500 hours of service life.  In lower amp motor applications, vacuum motors with Eternity Brushes have operated for 5,000 to 8,000 hours.



What this means for users of series universal vacuum motors is more uptime. Rather than having vacuums down for service or brush replacement, motor users can operate their equipment until the brushes are completely worn, signaling that the motor has reached end of its maximum life.



The extended life span offered by Eternity Brush motors is especially attractive for vacuum motor applications that require either high volume air flow or that operate continuously for long periods of time.  These include car wash vacuums, pneumatic tube systems, air plenum or air sampling units, pet grooming tools, high-use hand dryers, and hood or welding exhausts.



AMETEK Eternity Brush motors are modeled on traditional brush motors, offering the same performance, and, since the new models are built the same as straight brush versions, in almost all cases, they are drop in replacements for the older motors in their current applications. Eternity Brush motors are available with both single- and two-stage fan systems.



In addition to the long-life curved brushes, Eternity Brush motors feature AMETEK's patented wet bearing protection system and improved fan diffuser designs on many models. At the heart of the bearing protection is a new way to prevent grease washout caused by vacuuming liquids. Current motor designs allow grease washout in as little as 100 hours and usually by 250 hours. In wet-vacuum applications, the main reason motors fail is because of moisture. This new technology prevents motor failures from grease washout.


| | | |
| --- | --- | --- |
| Motor Type | Std Brush Life | Eternity Brush Life |
| 2-stage, 120-volt | 733 | 2600 |
| 2-stage, 120-volt | 850 | 3075 |
| 2-stage, 230-volt | 592 | 1460 |
| 1-stage, 120-volt | 644 | 1500 |
| 1-stage, 120-volt | 650 | 1500 |



AMETEK Floorcare & Specialty Motors is a division of AMETEK, Inc, a leading global manufacturer of electronic instruments and electromechanical devices.  For more information, contact AMETEK Floorcare & Specialty Motors, 100 East Erie St., Kent, OH  44240. Tel: 330-673-3786. Fax: 330-677-3812. Web site: www.ametekfsm.com

More from Architectural & Civil Engineering Products