Brush-Commutated DC Motors minimize cogging.
Press Release Summary: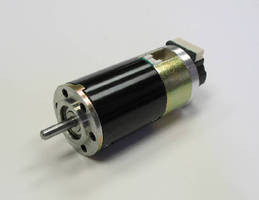 Available in 2.080, 2.552, and 3.025 in. lengths, 30 mm Pittman® Series 8540 achieves continuous torque up to 9.3 oz-in., peak torque up to 78.7 oz-in., speeds to 6,440 rpm at continuous torque, and continuous power up to 43 W, depending on model. DC motors integrate bonded neodymium magnets, 7-slot straight armature, diamond-turned commutator, and copper-graphite brushes. PC board brush card with integral surface mount components incorporates electrical noise suppression.
---
Original Press Release:

New Pittman® 30mm Brush-Commutated DC Motors Maximize Power Density and Minimize Cogging



New Pittman® brand 30mm brush-commutated DC motors integrate high-energy bonded neodymium magnets for maximized power density and an optimized magnetic field profile and 7-slot straight armature to minimize cogging. The motors additionally feature a large diamond-turned commutator and copper-graphite brushes to deliver high current capacity and long-life operation.

These Series 8540 brush DC motors offering high torque-to-size performance provide ideal solutions to power data storage and medical equipment and business machines, among other industry applications.

The motors (1.181 in. diameter) are available in three standard lengths (2.080 in., 2.552 in., and 3.025 in.). They can achieve continuous torque up to 9.3 oz-in. and continuous power up to 43W, depending on model, and peak torque up to 78.7 oz-in and speeds up to 6440 rpm at continuous torque for standard motors at rated voltages.

Their balanced armature minimizes noise and vibration; large pre-loaded and heavy-duty ball bearings and supports promote high shaft-load capability; PC board brush card with integral surface mount components easily incorporates electrical noise suppression; and an integral connector header allows for custom leadwire configurations.

A modular design for these motors accommodates gearboxes, encoders, and brakes using adapter plates and shaft extension modifications. Motors can further be customized to satisfy particular application requirements.

AMETEK Technical & Industrial Products is a unit of AMETEK, Inc., a leading global manufacturer of electronic instruments and electromechanical devices with annual sales of more than $2.5 billion.

Contact Michael Lefebvre, AMETEK Technical & Industrial Products, 343 Godshall Drive, Harleysville, PA 19438 USA. Phone: 215-256-6601. Fax: 215-256-1338. Web site: www.ametektechnicalproducts.com

More from HVAC