Brookfield PFT(TM) Powder Flow Tester Selected as 2011 R&D 100 Award Winner!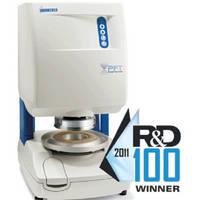 Brookfield's Powder Flow Tester has been selected for inclusion in the 49th Annual R&D 100 Awards. The R&D 100 Awards recognize the 100 most technologically significant products introduced into the marketplace over the past year. Winners are selected by an independent judging panel and editors of R&D Magazine.

The Brookfield Powder Flow Tester delivers affordable testing for powder characterization and quick & easy analysis of powder flow behavior in industrial processing equipment. It is ideal for manufacturers who process powders daily and need to minimize or eliminate downtime and expense that occur when hoppers/silos fail to discharge. With the Powder Flow Tester customers can also perform QC checks on incoming materials, quickly characterize new formulations for flowability and adjust composition to match the flow behavior of established products.

Since 1963, the R&D 100 Awards have identified revolutionary technologies newly introduced to the market, many of which have become industry standards. R&D Magazine serves research scientists, engineers, and other technical staff members at high tech industrial companies and public and private laboratories around the world.

For more information about Brookfield's Powder Flow Tester, visit www.brookfieldengineering.com/products/pft/powder-flow-tester.asp or call 800.628.8139 or 508.946.6200.