Bronze Thrust Washers Now Available on Bronzebushings.com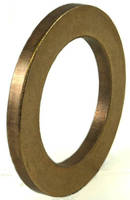 Roseville, MI – National Bronze Mfg. Co. prides itself on delivering what their customers demand.  When customers wanted an easy, quick way of purchasing industry standard sized bronze bushings, they developed bronzebushings.com.  Response to this solution has been very positive, resulting in customers wanting even more. In June National Bronze Mfg. responded with the addition of cast bronze bushings to the bronzebushings.com product line, and now they are happy to announce the addition of a new product line to the online store. 



Customers can now purchase oil impregnated bronze thrust washers from the popular ecommerce site.  The thrust washers are a powdered metal product and comply with the SAE 841 standard.  "We use visitor data from our site to better understand the needs of our customers" stated Michael Russo VP of Business Development for National Bronze Mfg. "With this analytical information we can predict what our customers want without them having to ask us. This proactive approach to customer service is one of our core values as an organization. We have been providing this type of service for years.  The only difference is that now we are able to utilize the latest technology to help us provide even better service to our customers. " This openness to change is one of the reasons National Bronze Mfg. has been able to be successful for the last 103 years.  "We have always strived to constantly improve our manufacturing ability over the years with the many advancements in machining technology, now we are taking the same idea and applying it to other areas of our business."



The new oil impregnated thrust washers complement the current product offering on bronzebushings.com.  Many customers will utilize a thrust washer in combination with sleeve bushing style of products.  "The sintered bronze thrust washers can support an axial load as well as provide a self lubricating thrust surface for applications where assembly does not lend itself to the use of a flanged bearing" Russo explained.  National Bronze Mfg. has a large inventory of the SAE 841 thrust washers.  When this large inventory is combined with the quick and efficient ordering process from bronzebushings.com, customers benefit from same day shipping of these components.



The oil impregnated thrust washers can be found via the following link:



http://www.bronzebushings.com/sae-841-sleeve-bearings/thrust-washers.html



For more information about National Bronze Mfg. Co. visit their main site at www.nationalbronze.com



About National Bronze Mfg. Co.



National Bronze Mfg. is a leading manufacturer and supplier of bronze based products. Since 1911 National Bronze Mfg. has been one the largest manufacturers of bronze bushings, bearings, and other industrial components. National Bronze Mfg. is also a full metal service center supplying bronze, brass, and copper bar stock to manufacturers worldwide. With an expertise in copper alloy based product National Bronze Mfg. services customers in a wide variety of industries.



More from Agricultural & Farming Products