Broadcast Pix Systems Move to New High-Performance Windows 7 Platforms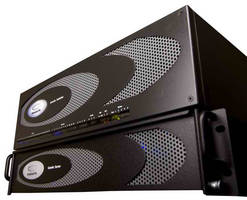 Billerica, Massachusetts - Broadcast Pix(TM) today announced that Granite(TM) and Mica(TM) Video Control Centers(TM) are now shipping with new high performance hardware platforms with Intel® quad-core technology running Microsoft® Windows 7, as well as expanded enterprise-class storage. The new platforms and version 3.0 Video Control Center software are being demonstrated on every Broadcast Pix system at the 2012 NAB Show in Las Vegas, Nev., April 16-19 (Booth SL6424).

Unlike traditional video production switchers, Broadcast Pix systems also handle file-based content and data streams. The new platforms and Windows 7 software enhance file management, system performance, and system robustness, while providing familiar Windows 7 tools. Plus, Video Control Center 3.0 features optimized touch-screen control, and Windows 7 enables dual touch-screen control for enhanced flexibility.

"With so much control at their fingertips, our customers push our Video Control Centers to create great looking live video with extensive layering, file-based macro effects, and automated data," said Ken Swanton, CEO. "Our new platforms enable producers to do even more and do it faster."

Beyond its new hardware platform and Windows 7 software, Granite's standard configuration now includes redundant power for both the Granite Server and its companion Granite Switcher. Plus, Granite's integrated Clip Store capacity has been doubled, providing up to 60 hours of storage, and a new premium storage option provides up to 180 hours of redundant RAID 5 storage.

Granite is available in six models and supports up to 22 HD/SD-SDI inputs, plus seven channels of clips, animations, and graphics. Available in four models, the cost-effective Mica family of Video Control Centers features eight HD/SD-SDI inputs plus seven channels of clips, animations, and graphics. In addition to a multi-format production switcher, both native HD systems include built-in clip store, graphics system, Fluent-View, Fluent Macros, and external device controls.

About Broadcast Pix Broadcast Pix is a leader in live video production systems. Its Video Control Centers(TM) empower operators with patented techniques that combine cameras, clips and graphics to create compelling live video. The integration of a multi-format switcher, clip store, graphics system with a Harris or Chyron CG, and device controls provides the lowest cost of ownership at a fraction of the cost of a conventional control room to buy, staff and operate. Systems range from compact systems controlled by a touch-screen or voice-automation to sophisticated 2 M/E control panels. Customers include leading broadcast, corporate, education, religious, government, webcast, entertainment and mobile studios in more than 100 countries. Learn more at www.broadcastpix.com.

Broadcast Pix, Granite, Mica, Fluent, and Video Control Centers are trademarks of Broadcast Pix, Inc. Patented.


Related