Broadcast Pix's New BPfusion Software Automatically Integrates Information into Templates for Customized Graphics
Press Release Summary: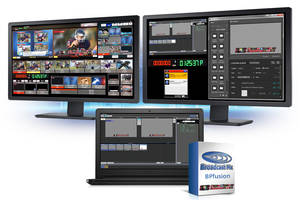 BPfusion Software is designed for sports, election, and news coverage. The software uses data from scoreboards, Twitter, RSS feeds, spreadsheets, clocks and automatically updates graphics. BPfusion's two channels supports up to six virtual layers that enables dynamic graphics such as 3D and motion elements. BPfusion allows user to import Adobe After Effects projects into NewBlueNTX.
---
Original Press Release:
NAB 2018: New Broadcast Pix BPfusion Offers Automated Graphics for BPswitch Integrated Production Switchers
Chelmsford, Mass. – April 3, 2018 – Broadcast Pix today announced BPfusion, a new software option for its BPswitch™ family of integrated production switchers that streamlines the creation of data-intensive CG graphics and more using the built-in NewBlueNTX multi-layer 3D motion graphics CG. Broadcast Pix will demonstrate the dual-channel BPfusion CG during the 2018 NAB Show (Booth SL8320), which runs April 9-12 in Las Vegas, Nev.
Designed for enhanced sports, election, and news coverage, BPfusion automatically updates graphics using data from scoreboards, Twitter, RSS feeds, spreadsheets, clocks, and other sources over IP. With simple drag-and-drop operation, BPfusion automatically integrates information into templates for customized graphics – from simple scoreboards to multi-layer motion graphics of election maps – without re-keying the data.
"BPfusion brings the power of our popular Rapid CG software to the NewBlueNTX 3D motion graphics CG, with the added flexibility of IP-based control and seamless integration with BPswitch," explained Tony Mastantuono, product manager. "With BPfusion, you can bring your live sports or election coverage to the next level by combining automatic score updates with motion graphics. It's an easy and cost effective way to take control of your graphics – and you don't have to worry about manually keeping score."
Each of BPfusion's two channels supports up to six virtual layers, so users can have up to 12 separate graphics on the air at the same time. These additional layers allow for more dynamic graphics, including 3D and motion elements, which can be triggered by the switcher's file-based macros or BPfusion's intuitive user interface. Users have a choice of playback modes, so graphics and animation compositions can be previewed or taken directly to air on the fly. BPfusion also allows users to import Adobe After Effects projects into NewBlueNTX, and provides an additional NewBlue license so it can run on a remote PC over IP for workflow flexibility.
BPswitch is the only family of integrated production systems that includes a switcher and integrated 3D motion graphics CG. NewBlueNTX makes it easy to quickly create custom graphics. It includes hundreds of title styles and templates for lower-thirds, scoreboards, main titles, crawls, rolls, and bugs. Plus, built-in motion graphic animation presets make it easy to create and update complex effects. NewBlueNTX graphics can be selected and edited directly through BPswitch.
BPfusion further expands the IP capabilities of BPswitch systems, which accept hybrid I/O and can control cameras over IP. BPswitch offers control-over-IP functionality from inside a studio or remotely using a panel, touchscreen, or mobile device. Using BPNet™, the company's secure cloud-based ecosystem, asset management and control services over IP are also available.
The BPfusion software option for BPswitch is priced at $2,900 and will be available in May. BPswitch models start at under $11,000.
About Broadcast Pix With a tightly coupled switcher and 3D motion graphics CG, Broadcast Pix provides the most fully integrated live video production systems with patented control and automation technology. From compact units to large-scale, multi-system solutions, every Broadcast Pix features an extensive toolset that makes it easy to optimize and customize your workflows locally and over IP. Plus, its BPNet ecosystem provides secure cloud services and asset management. Founded in 2002, Broadcast Pix has customers in more than 100 countries and is the leader in fully integrated production switchers for government, broadcast, streaming, live event, and visual radio applications. Learn more at www.broadcastpix.com.
Related