Broadcast Pix Flint Integrated Production System Adds Audio Mixer, New Streaming, and Recording Options at IBC 2013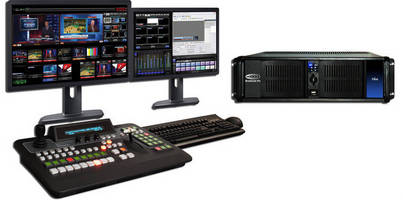 Billerica, Massachusetts — Broadcast Pix™ today announced Version 2.0 of its new Flint™ integrated production system, as well as upgrades to its new Granite X large-scale live production system. Flint V2 adds an internal eight-channel audio mixer, as well as broadcast quality internal H.264 recording and .WMV Web streaming, while Granite X has improved its multi-view monitoring. The upgraded features will be demonstrated at IBC 2013 (Stand 7.B21), which runs Sept. 13-17 at Amsterdam RAI.



Flint's audio mixer takes audio from any camera input or internal clip stores. It is controlled through an intuitive audio interface with on-screen stereo faders and VU meters, with peak hold capability, mute and solo functions, and built-in audio-follow-video. Two outputs allow separate mixes with independent control for master recording and Web presentations. The audio mixer can also be controlled through Fluent Macros, an advanced macro system that easily executes any combination of video, audio, files, and device moves for complex effects.



"The addition of an integrated audio mixer was an important component in our approach to end-to-end integration," said Steve Ellis, Broadcast Pix CEO. "For operations with modest budgets and limited manpower, it means easier audio control and one less piece of hardware."



Flint V2 also adds built-in recording of the program output to the internal hard drive. Broadcast quality 1080i H.264 .MOV clips can be added to a show automatically using Fluent Watch Folders, Flint's built-in file management system, or exported to an NLE system for later use. Expanding on the included Adobe Flash streaming, Flint V2 adds the ability to steam to a Windows Media Server using Microsoft Expression Encoder in up to 720p resolution.



Another enhancement adds a network input that allows video and audio from a Windows-based PC to be accessed as a source in Flint's built-in production switcher. This reduces the amount of physical inputs that are used, and taps the power of the cloud to allow presentations, Skype calls, and other remote applications to be seamlessly integrated into a live production.



Flint's multi-format production switcher supports up to six HD/SD-SDI, HDMI, and analog cameras, plus eight channels of clips and graphics. It includes three keyers for layering, each with PiP and customizable DVE. An internal Harris Inscriber CG provides six graphic channels, while a built-in, two-channel clip server stores up to 30 hours of clips and animations in a variety of file formats. Other features include the customizable Fluent-View multi-view, customizable virtual sets, and control of robotic cameras, video servers, external audio mixers, and other devices.



Granite X improvements include advanced multi-view capabilities, with 16 full motion source windows. It also offers enhanced DDR control that allows for different clips in each of the four channels of Harris, Omneon, Grass Valley K2, and 360 Systems servers. All three Granite X models support 22 cameras and seven channels of files. Both Granite X and Flint can add cloud-based content – from Skype, Twitter, RSS feeds, Dropbox, and a variety of other online sources – during a live production while maintaining lip sync.



Flint V2 is a free upgrade for all Flint systems under warranty and will ship with all new Flint systems in late October. Granite X is now shipping and the new upgrades are available for any current user.



About Broadcast Pix The leader in live video production systems with end-to-end integration, Broadcast Pix was founded in 2002 and has customers in more than 110 countries. Its Video Control Centers™ combine an integrated switcher, clip server, CG, and external control software with patented control panels, unique touch-screens, and exceptional displays. Systems range from compact systems controlled by touch-screen or voice automation to large sophisticated control panels. Customers include leading broadcast, streaming, sports, corporate, education, religious, and government studios. Learn more at www.broadcastpix.com.



Broadcast Pix, Fluent, Flint, and Granite are trademarks of Broadcast Pix, Inc. Patented. Made in USA.





More from Controls & Controllers