Silicon Controlled Rectifiers (Thyristors)
Broadband Protection Thyristor serves VDSL2+, ADSL2 applications.
Press Release Summary: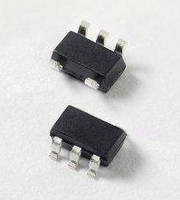 SDP Series SOT23-5 SIDACtor® Protection Thyristors are designed for use in tertiary or line driver side protection position for ADSL2 and VDSL2 as well as 30 MHz bandplan of VDSL2+ applications and general I/O protection functions. Delivering low capacitance over-voltage protection, products do not require use of bias voltage and offer protection robust enough for use in chip-side position behind coupling transformer. Flow-through design of SOT23-5 package minimizes PCB trace layout routing.
---
Original Press Release:

SDP Series SOT23-5, SIDACtor® Protection Thyristor Provides Tertiary Protection for VDSL2+, ADSL2 Applications



SOT23-5 Surface Mount Package Minimizes Trace Layout Routing



CHICAGO – Littelfuse, Inc., the global leader in circuit protection, has developed a new series of broadband protection Thyristors, designed for use in the tertiary or line driver side protection position for ADSL2 and VDSL2, and the 30MHz bandplan of VDSL2+ applications and general I/O protection functions. SDP Series SOT23-5 SIDACtor® Protection Thyristors, which are ideal for low capacitance over-voltage protection, do not require the use of a bias voltage and offer protection robust enough for use in the chip-side position behind the coupling transformer. Their back-to-back configuration provides symmetrical ESD protection for data lines and can be used when AC signals are present.



The SDP SIDACtor Series in the SOT23-5 package provides a minimum footprint solution that's ideal for use in high density card designs, where space is at a premium. The flow-through design of the SOT23-5 package minimizes PCB trace layout routing, while the device's four different stand-off voltage values offer compatibility with a variety of line drivers. The device's low capacitance and low insertion loss make it compatible with ADSL2 and VDSL2, and the 30MHz bandplan of VDSL2+.



The SIDACtor SDP SOT23-5 Series offers an ideal surge protection solution for manufacturers and designers of VDSL, ADSL, Access, Central Office, and Customer Premise modems and gateways who need tertiary or IC side line driver chipset protection. In addition to electrical performance superior to competing Thyristors, it offers circuit designers opportunities to upgrade the circuit protection of existing projects in mass production within the existing design footprint or to provide more robust protection for future projects than competing solutions can allow.



The SDP Series SOT23-5 SIDACtor® Protection Thyristors offers circuit designers a variety of key benefits:

• Bidirectional transient voltage protection.

• Better overshooting protection than clamping can provide.

• Switching begins within nanoseconds to provide faster protection from damaging electrical surges.

• Small, low-profile, surface mount SOT23-5 package, with its flow-through design PCB, minimizes trace layout routing.

• Robust surge rating performance up to 50A (8/20µs) ensures excellent performance characteristics.

• Low capacitance and low insertion loss ensures compatibility with ADSL2 and VDSL2, and the 30MHz bandplan of VDSL2+.

• Through their compliance with YD/T 950, YD/T 993, YD/T 1082, GR 1089 Inter-building, GP 1089 Intra-building, IEC 61000-4-2, IEC 61000-4-5, ITU K.20/21 Basic Level, ITU K.20/21 Enhanced Level, TIA-968-A, and TIA-968-B, they help circuit designers meet global regulatory standards.



Jeff Chin, global product manager of the Littelfuse SIDACtor Protection Thyristor Series, notes, "This series represents an important addition of our surge protection product offerings for the line driver side or tertiary side of transformers, and offers circuit designers new options and greater design flexibility by expanding upon the broad selection already available in our current SIDACtor SDP/SEP Series and TVS Diode Array SPA product lines."



The SIDACtor Protection Thyristor Series is available in quantities of 3,000 in standard tape and reel packaging.



Technical Contact:

Jeff Chin

Product Manager, SIDACtor Protection Thyristor

JChin@littelfuse.com



About Littelfuse

Founded in 1927, Littelfuse, Inc., the worldwide leader in circuit protection, offers the industry's broadest and deepest portfolio of circuit protection products and solutions. Littelfuse devices protect products in virtually every market that uses electrical energy, from consumer electronics to automobiles to industrial equipment. In addition to its Chicago, Illinois, world headquarters, Littelfuse has more than 30 sales, distribution, manufacturing and engineering facilities in the Americas, Europe and Asia. Technologies offered by Littelfuse include Fuses; Gas Discharge Tubes (GDTs); Positive Temperature Coefficient Devices (PTCs); Protection Relays; PulseGuard® ESD Suppressors; SIDACtor® Devices; Silicon Protection Arrays (SPA™); Switching Thyristors; TVS Diodes and Varistors.  The company also offers a comprehensive line of highly reliable Electromechanical and Electronic Switch and Control Devices for commercial and specialty vehicles, as well as Protection Relays and underground Power Distribution Centers for the safe control and distribution of electricity.



For more information, please visit the Littelfuse website: littelfuse.com

More from Agricultural & Farming Products