Broadband Driver Amplifier powers various electronics.
Press Release Summary: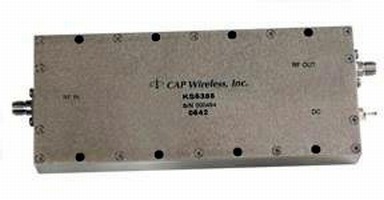 Solid-state KS5388 power amplifier is suited for use as broadband driver or moderate power output stage in instrumentation and electronic warfare (EW) simulation. Combining high-frequency GaAs performance with high-power, high-temperature cofired ceramic device packaging, it achieves 5 W power amplification from 6-18 GHz and features 37 dBm output power and 35 dB gain. Copper heat spreader optimizes heat dissipation.
---
Original Press Release:

CAP Wireless Offers New Broadband Driver Amplifier for Instrumentation and EW Simulation



NEWBURY PARK, Calif. - Oct. 6, 2008 - CAP Wireless, Inc. (CAP), a leading supplier of high-performance microwave and RF amplifiers and amplifier-based subsystems, today announced the KS5388 broadband driver amplifier, a high performance, solid state, power amplifier that is ideally-suited for use as a broadband driver or moderate power output stage in instrumentation and electronic warfare (EW) simulation. It can also be used as a receiver amplifier in broadband, high-dynamic-range receiver systems.

The KS5388 combines the advantages of high-frequency gallium arsenide (GaAs) device performance and reliability with CAP's state-of-the-art broadband, high power, high temperature co-fired ceramic (HTCC) device packaging to provide a cost-efficient solution with outstanding broadband power amplification. The unit efficiently achieves five watts of power amplification from six to 18 GHz and includes a copper heat spreader to optimize heat dissipation and enhance reliability. Typical applications include electronic counter measures (ECM, ECCM), multi-band communications, signal simulators, and instrument and test equipment.

Key features of the KS5388:

o Broad 6 to 18 GHz bandwidth

o 37dBm output power

o 35 dB gain

o Solid state GaAs monolithic microwave integrated circuit (MMIC) reliability

o Economical, state-of-the-art HTCC device packaging

For complete product information, visit capwireless.com/products/KS5388.php

Pricing and Availability The KS5388 broadband driver amplifier is available immediately. Pricing depends upon individual customer specifications; please call CAP Wireless at 805-499-1818 or email info@capwireless.com for specific price quotes and additional information.

About CAP Wireless CAP Wireless develops and manufactures a broad range of RF and microwave amplification products and related subsystems for homeland security, defense electronics, and commercial microwave markets. The company's Spatium(TM) product line provides extremely broad bandwidth, high-power, solid state amplifiers for applications such as electronic warfare (EW) systems, radar and communication systems, laboratory instrumentation, and electromagnetic compatibility and interference testing. Applications currently in development include high-power and low noise amplifiers for radar, microwave imaging, and satellite and terrestrial communications systems. CAP Wireless, Inc. is a privately held corporation headquartered in Newbury Park, CA. For more information about CAP Wireless and its products, please call 805-499-1818, email info@capwireless.com, or visit www.capwireless.com.

For more information, please contact:

Scott Behan Vice President, Marketing

CAP Wireless, Inc.

3235 Grande Vista Dr., Newbury Park, CA 91320

Tel. 805.499.1166

scott.behan@capwireless.com

www.capwireless.com

Elisabeth Glover

Marketing Communications

CAP Wireless, Inc.

3235 Grande Vista Dr., Newbury Park, CA 91320

Mobile 805.443.9563

elisabeth.glover@capwireless.com

More from Chemicals & Gases