Broadband Coaxial Limiters protect RF receiver components.
Press Release Summary: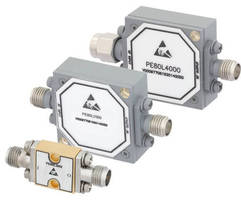 Offered in 7 unique designs ruggedized to meet MIL-STD-202, RF limiters operate in bands from 0.5–40 GHz and protect sensitive RF receiver components in close proximity to high-power signals while suppressing even-order harmonics under hard limiting conditions. Products provide low leakage power (10–15 dBm) to sensitive control components in receiver chain and exhibit CW power handling up to 100 W peak power as well as recovery time of 10–100 nsec.
---
Original Press Release:

Pasternack Releases New Broadband, High Power Coaxial Limiters



New RF Limiters from Pasternack Protect Sensitive RF Receiver Components while Suppressing Even-Order Harmonics under Hard Limiting Conditions



Irvine, CA – Pasternack, a leading manufacturer and supplier of RF, microwave and millimeter wave products, debuts their new broadband, high power coaxial limiters which help protect sensitive low power RF receivers and other microwave circuits in close proximity to high power signals. Common applications for these RF limiters include electronic warfare, instrumentation, fiber optic communication systems, military communications, radar, SATCOM, point-to-point radio, telecom, data links and R&D.



Pasternack's latest release of high power limiters consists of 7 unique designs that provide low leakage power to sensitive control components in the receiver chain while offering good suppression of even-order harmonics under hard limiting. These RF limiters operate over a very broad frequency range in bands from 0.5 GHz to 40 GHz and also provide low leakage power circuit protection of 10 to 15 dBm. This new selection of coaxial limiters exhibits high CW power handling up to 100 Watts peak power and fast recovery time of 10 to 100 nanoseconds.



The new high power, broadband limiters from Pasternack help stabilize generator outputs, provide constant amplitude signals in phase sensitive systems and reduce amplitude variation in frequency modulation (FM) systems. The 50 Ohm hybrid designs incorporate complete limiting diode circuitry and do not require any external matching components. These microwave limiters offer a guaranteed operating temperature range of -54° C to +85° C and are constructed with high-rel, ruggedized packages that are designed to meet MIL-STD-202 environmental conditions for humidity, shock, vibration, altitude and temperature cycle.



"This selection of broadband, high power coaxial limiters offers designers an extensive portfolio of highly reliable models for use in protecting sensitive RF receiver components, in addition to suppressing even-order harmonics under hard limiting conditions," says Tim Galla, Active RF Components Product Manager at Pasternack.



Pasternack's new high-rel RF limiters are available today from stock. You can view the new broadband limiters by visiting http://www.pasternack.com/pages/RF-Microwave-and-Millimeter-Wave-Products/broadband-high-power-coaxial-limiters.html Pasternack can be contacted at +1-949-261-1920.



About Pasternack

A leader in RF products since 1972, Pasternack is an ISO 9001:2008 certified manufacturer and supplier that offers the industry's largest selection of passive and active RF, microwave and millimeter wave products available for same-day shipping.



Shaun Gameroz

Direct Marketing Manager

(O) 949-267-9734 

(F) 949-261-5086

17802 Fitch 

Irvine, CA 92614

shaun.gameroz@pasternack.com 

www.pasternack.com

More from Adhesives & Sealants