Broadband Coated Optical Mirrors offer >99% reflection.
Press Release Summary: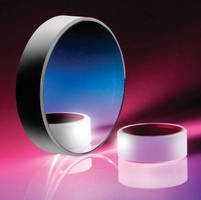 Designed for applications in visible to NIR spectra, TECHSPEC® Broadband Coated 1/10λ First Surface Mirrors feature dielectric mirror coatings that offer reflectivity for all polarization states from 0° to 45° AOI. Degree of reflectivity optimizes system performance by allowing minimal energy loss, and other features include fused silica substrate and abrasion resistance. There are 20 standard models with diameters from 5–50 mm in 400–750 nm and 750–1,100 nm broadband configurations.
---
Original Press Release:

Provide Excellent Durability; TECHSPEC Broadband Coated 1/10 Lambda First Surface Mirrors



Broadband coating provides greater than 99% reflection



Barrington, N.J. - Edmund Optics® (EO), the premier provider of optical components, introduces new TECHSPEC® Broadband Coated 1/10λ First Surface Mirrors. These versatile dielectric mirrors are designed for applications in the visible to near-infrared spectra including flow cytometry, DNA sequencing/genomics, ophthalmology, spectroscopy, optical metrology, and OCT/medical imaging.



Greater than 99% reflection



TECHSPEC Broadband Coated 1/10λ First Surface Mirrors provide greater than 99% reflection over a broad wavelength range. The dielectric mirror coatings offer high reflectivity for all polarization states from 0° to 45° AOI. They feature much higher reflection when compared to standard metal coated mirrors, which optimizes system performance by allowing extremely minimal energy loss.



High resistance to abrasion



Featuring a fused silica substrate, TECHSPEC Broadband Coated 1/10λ First Surface Mirrors are highly durable and have a low coefficient of thermal expansion. These robust optical mirrors offer a high resistance to abrasion. They are available in twenty standard models with diameters from 5mm to 50mm in 400-750nm and 750-1100nm broadband configurations. TECHSPEC Broadband Coated 1/10λ First Surface Mirrors are in-stock and available for immediate delivery for fast turnaround and excellent value.



TECHSPEC Broadband Coated 1/10λ First Surface Mirrors will be on display at Laser World of Photonics (Munich, Germany) from May 13-16 at Booth B1/521.



About EO:



Edmund Optics® (EO) is a leading producer of optics, imaging, and photonics technology for R&D, electronics, semiconductor, pharmaceutical, biomedical, and military markets around the globe. EO is the world's largest supplier of off-the-shelf optical components. Customers can purchase items by contacting EO at 1-800-363-1992, via the catalog, or via the website at www.edmundoptics.com



Company Contact:

Kirsten Bjork-Jones

Director Global Marketing Communications

Edmund Optics, Inc.

101 East Gloucester Pike

Barrington, NJ 08007 U.S.A.

Phone: 1-800-363-1992

Fax: 1-856-573-6295

email: kbjork-jones@edmundoptics.com

More from Cleaning Products & Equipment