Broadband Anti-Reflection Coatings come as standard options.
Press Release Summary: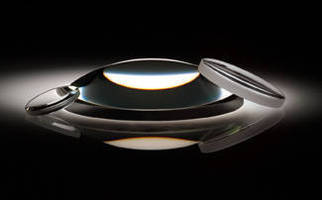 YAG-BBAR broadband coating provides <1.0% reflectance per surface over its 500–1,100 nm wavelength range and absolute reflectance of <0.25% where it is optimized at 532 and 1,064 nm. Offering extended UV performance, VIS-EXT BBAR reduces reflection from 350–700 nm and provides <0.5% average reflectance per surface over its 350–700 nm range. Both broadband anti-reflection (BBAR) coatings are offered off-the-shelf on PCX lenses and can be applied to any uncoated optics.
---
Original Press Release:

Edmund Optics Expands Line of Standard Anti-Reflection Coatings



Our most requested custom AR coatings are now available standard



Barrington, N.J. – Edmund Optics (EO), the premier provider of optical components, introduces an expanded line of Standard Anti-Reflection (AR) Coatings. Our most requested custom AR coatings are now available standard, for fast turnaround and excellent value. These new broadband anti-reflection (BBAR) coatings are currently offered off-the-shelf on PCX lenses. Standard BBAR coatings can be applied to any uncoated optics.



Edmund Optics' expanded line of standard AR coatings includes a YAG-BBAR coating, which is a broadband coating from 500-1100 nm that is optimized for low reflection at both 532 nm and 1064 nm. The YAG-BBAR coating provides less than 1.0% reflectance per surface over its wavelength range and absolute reflectance of less than 0.25% where it is optimized at 532nm and 1064 nm.



VIS-EXT BBAR is a broadband AR coating features extended UV performance



The VIS-EXT BBAR Coating reduces reflection from 350-700 nm. The VIS-EXT provides less than 0.5% average reflectance per surface over its wavelength range of 350-700 nm. These standard AR coatings are available immediately for innovative optical solutions and outstanding value.



Please call Edmund Optics at +1-856-547-3488 to request your free quote!



About EO:



Edmund Optics® (EO) is a leading producer of optics, imaging, and photonics technology for R&D, electronics, semiconductor, pharmaceutical, biomedical, and military markets around the globe. EO is the world's largest supplier of off-the-shelf optical components. Customers can purchase items by contacting EO at 1-800-363-1992, via the catalog, or via the website at www.edmundoptics.com



Company Contact:

Kirsten Bjork-Jones

Director Global Marketing Communications

Edmund Optics®, Inc.

101 East Gloucester Pike

Barrington, NJ 08007 U.S.A.

Phone: 1-800-363-1992

Fax: 1-856-573-6295

email: kbjork-jones@edmundoptics.com

More from Sensors, Monitors & Transducers