Broadband Amplifiers suit applications from 2-18 GHz.
Press Release Summary: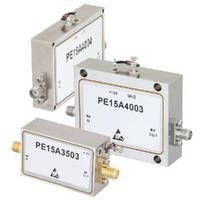 Offered in 1 W and 2 W models, Broadband RF Amplifiers utilize hybrid microwave integrated circuit and advanced GaAs pHEMT technology. Connectorized SMA modules are unconditionally stable and include built-in voltage regulation, bias sequencing, and reverse bias protection. Featuring hermetically sealed design, amplifiers operate from -55 to +85°C with gain from 32–48 dB, gain flatness from ±1 dB to ±2 dB at 12–18 GHz range, and linearity levels from 39–42 dBm.
---
Original Press Release:

Pasternack Introduces New 1 Watt and 2 Watt Broadband Amplifiers up to 18 GHz



Irvine, CA - Pasternack Enterprises, Inc., an industry leading manufacturer and supplier of RF, microwave and millimeter wave products, announces the release of ten new 1 Watt and 2 Watt broadband amplifiers, which are ideal for defense, EW/ECM, radar, test instrumentation, telecom, satcom, microwave radio and industrial applications from 2 GHz to 18 GHz.



Pasternack's new medium power broadband amplifiers are offered in 1 Watt and 2 Watt models and range in frequency from 2 to 18 GHz depending on the RF amplifier configuration. The excellent performance of these broadband RF amplifiers is achieved using a hybrid microwave integrated circuit design and advanced GaAs pHEMT technology. The connectorized SMA amplifier modules are unconditionally stable and include built-in voltage regulation, bias sequencing, and reverse bias protection for added reliability. These wideband power amplifiers have over-voltage protection that is installed externally for easy repair. These hi-rel RF amplifiers are fully matched internally for 50 Ohm input and output which eliminates the need for any additional sensitive external RF tuning components.



All ten new broadband amplifiers from Pasternack are housed in hermetically sealed modules and will operate from -55°C to +85°C. This comprehensive RF power amplifier product offering provides customers a choice of gain levels, frequency ranges and power outputs for their specific requirements. Pasternack's 1W and 2W broadband RF amplifiers have outstanding performance in gain ranging from 32 dB to 48 dB, gain flatness from ±1 dB to ±2 dB at the higher frequency range of 12 GHz to 18 GHz, and high linearity levels (IP3) of 39 dBm to 42 dBm.



"We are very excited about this new offering of broadband amplifiers. Pasternack is embarking on a new market strategy to expand its industry leadership and brand recognition in the area of active products, aiming to provide the highest level of customer service and product selection to our customers," says Michael Rachlin, Active RF/Microwave Product Manager at Pasternack.



The new medium power broadband amplifiers from Pasternack are in-stock and available for same-day shipment. You can view the entire line of these new products by visiting http://www.pasternack.com/pages/Featured_Products/1-watt-and-2-watt-broadband-amplifiers-up-to-18-ghz.htm directly.  Pasternack can be contacted at +1-949-261-1920.



About Pasternack

A leader in RF products since 1972, Pasternack is an ISO 9001:2008 certified manufacturer and supplier that offers the industry's largest selection of passive and active RF, microwave and millimeter wave products available for same-day shipping.



Press Contact:

Shaun Gameroz

Direct Marketing Manager

(O) 949-267-9734 | (F) 949-261-5086

17802 Fitch | Irvine, CA 92614

shaun.gameroz@pasternack.com  | www.pasternack.com

More from Controls & Controllers