Broadband Amplifier is suited for CATV applications.
Press Release Summary: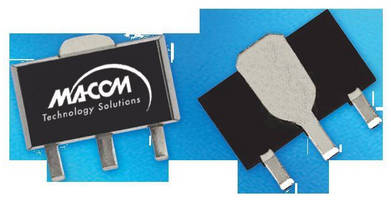 Supplied in lead (Pb)-free, SMT package, MAAM-010373 exhibits gain of 22 dB and noise of 2.2 dB and is fabricated using pHEMT process that features full passivation. This GaAs MMIC amplifier, operating from 50–1,100 MHz, employs monolithic, single-stage design featuring 75 Ω I/O impedance that minimizes number of required external components. Gain figure with 20 dB output return loss make this product suited for multitap drop amplifier applications.
---
Original Press Release:

M/A-COM Technology Solutions Announces New Broadband CATV Amplifier



Amplifier Exhibits Low Distortion, High Gain, and Low Noise Figure



Lowell, MA – M/A-COM Technology Solutions Inc. (M/A-COM Tech), a leading supplier of high performance analog semiconductor solutions, introduced today a new broadband amplifier for CATV applications.



The MAAM-010373 is a GaAs MMIC amplifier that exhibits low distortion and high gain in a lead-free surface mount package. The amplifier employs a monolithic single stage design, featuring convenient 75Ω input/output impedance which minimizes the number of external components required.



The MAAM-010373 is fabricated using a pHEMT process to realize low noise and low distortion. The process features full passivation for robust performance and reliability. Operating between the 50 MHz -1100 MHz frequency range, the amplifier exhibits a high gain of 22dB and low noise figure of 2.2 dB.



"Delivering 22dB of gain with 20dB output return loss, the MAAM-010373 is ideally suited for multitap drop amplifier applications" said Graham Board, Product Manager.  "Customers are continuingly demanding more gain, improved linearity and reduced power dissipation. The MAAM-010373 delivers on all counts." 



The table below outlines typical performance:






| | | |
| --- | --- | --- |
| Parameters | Units | MAAM-010373 |
| Frequency | dB | 50 - 1100 |
| Gain | dB | 22 |
| Gain Flatness | dB | +/- 0.5 |
| Noise Figure | dB | 2.2 |
| Input Return Loss | dB | 18 |
| Output Return Loss | dB | 20 |
| Reverse Isolation | dB | 25 |
| P1dB @403.25 MHz | dBm | 25 |
| CSO | dBc | -62 |
| CTB | dBc | -74 |
| IDD | mA | 148 |



Production quantities and samples of MAAM-010373 are available from stock. Final datasheets and additional product information can be obtained from the M/A-COM Tech website at: www.macomtech.com



ABOUT M/A-COM TECHNOLOGY SOLUTIONS INC.

M/A-COM Technology Solutions (www.macomtech.com) is a leading supplier of high performance analog semiconductor solutions for use in radio frequency (RF), microwave, and millimeter wave applications. Recognized for its broad portfolio of products, M/A-COM Tech serves diverse markets, including CATV, wireless infrastructure, optical communications, aerospace and defense, automotive, industrial, medical, and mobile devices. M/A-COM Tech builds on more than 60 years of experience designing and manufacturing innovative product solutions for customers worldwide.



Headquartered in Lowell, Massachusetts, M/A-COM Tech is certified to the ISO9001 international quality standard and ISO14001 environmental management standard. M/A-COM Tech has design centers and sales offices throughout North America, Europe, Asia and Australia.



M/A-COM, M/A-COM Technology Solutions, The First Name in Microwave and the M/A-COM logo are trademarks of M/A-COM Tech. All other trademarks are the property of their respective owners.



FOR SALES INFORMATION, PLEASE CONTACT:

North Americas -- Phone: 800.366.2266

Europe -- Phone: +353.21.244.6400

India -- Phone: +91.80.43537383

China – Phone: +86.21.2407.1588



MEDIA CONTACT:

Husrav Billimoria

M/A-COM Technology Solutions Inc.

978-656-2896

Husrav.Billimoria@macomtech.com

More from Fluid & Gas Flow Equipment