BriskHeat Expands Its Silicone Rubber Heating Blanket Options and Capabilities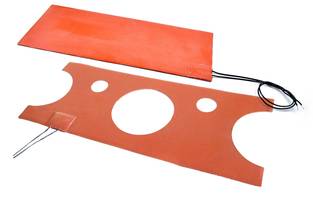 Silicone Heating Expert BriskHeat Adds New Products and Custom Options
COLUMBUS, Ohio, Nov. 14, 2018 – Today, BriskHeat, a leading provider of flexible heating, insulating, and temperature control solutions, announced additions and improvements to its extensive silicone heating blanket line, adding to the most complete lineup on the market. BriskHeat now offers five different silicone heater lines with hundreds of custom choices.
"From exceptionally durable heavy-duty silicone heaters to ultra-thin etched foil heaters to hazardous-area-rated heaters, we have a solution for every application," said Patrick Doyle, Vice President of Business Development for BriskHeat. "We also now offer unique features like built-in temperature control, custom cut-outs, and configurability to nearly any shape, size and power. This expansion ensures that BriskHeat remains the premier choice for silicone rubber heating blankets."
Silicone blankets are extremely versatile surface heaters used for freeze protection, process control, viscosity control, and condensation prevention. They're common in nearly every industry, including petrochemical, aerospace, medical, general manufacturing, plastics, food processing, and power generation. 
To find out more about BriskHeat's line of silicone rubber heating blankets and customization options, visit the product page or call toll free 888-412-0122.
About BriskHeat
Since 1949, BriskHeat has provided flexible heating solutions used for freeze protection, condensation prevention, flow/viscosity control, vacuum bake-out, composite curing, and temperature process control. BriskHeat's primary manufacturing facilities and headquarters are located in Columbus, Ohio. BriskHeat has a worldwide sales network including sales offices in Taiwan, China, Germany, France and Austria, as well as a manufacturing facility in Vietnam. In 2017, BriskHeat was named to the Inc. 5000 list of fastest-growing private companies in America. Follow BriskHeat on Twitter (@BriskHeat), on Facebook or on LinkedIn.
Media Contact: 
Craig Wilson
BriskHeat Corporation
614- 294-3376 ext. 1137
cwilson@briskheat.com
More from Architectural & Civil Engineering Products