Bringing A Vision to Life at the New 6 Salon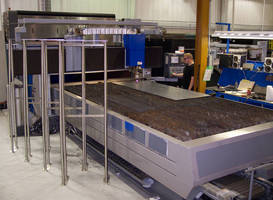 The owners of 6 Salon had a unique vision. To help them make that vision a reality they turned to a talented designer, and to 3-Dimensional Services.



World class is not a term that is bestowed lightly, but that's precisely what owners and brothers George and Johnny Nikollaj and cousin Tomy Lulgjuraj were aiming for when they opened 6 Salon in Royal Oak, Mich., in 2003. Along with their team of highly motivated and highly skilled stylists (George, Johnny and Tomy prefer to call them designers) the facility itself bespoke their commitment to excellence. The 3,400 sq. ft. shop with its clean, minimalist lines, innovative approach to workstation design, gleaming stainless steel and light, airy feel, looks more like an award winning design from Architectural Digest than it does a typical salon. Small wonder, then, that Salons & Spas magazine ranked it as one of the most beautiful salons in the world, along with elite salons in New York, Tokyo, Los Angeles and London.



"It's a highly stylized, minimalist space," notes Christian Unverzagt, design principal for M1/DTW, LLC of Detroit. M1/DTW is the design firm that George, Johnny and Tomy turned to help them create the strikingly innovative yet highly functional space of their dreams. "Our role has been to celebrate the relationship between the stylist and the customer," Unverzagt continues, "and one of the ways we've done that is by reducing it to its purest elements, in part by making the architecture and space almost seem to disappear."



This integrated ensemble of mission, expertise and design worked well. In its first full year in business, 6 Salon grossed over one million dollars and was also named Salon of The Year by the industry trade publication Salon Today. It worked so well, in fact, that in 2007 they were able to open a second 6 Salon, this one in Birmingham, Mich.



The Birmingham location, also, was successful, but it eventually became clear it had two problems: size and shape. It was 1,500 sq. ft. compared to Royal Oak's 3,400 sq.ft. salon, and it measured 14 feet wide by 140 feet long. The more spacious Royal Oak facility, on the other hand, was a 60 by 40 foot configuration, rendering it more suitable for the socializing that the owners viewed as an integral part of the 6 Salon spirit. On Thursday nights, for instance, Royal Oak patrons can enjoy complimentary wine and hors d'oeuvres while dancing to the salon's resident DJ. The owners decided to move the Birmingham facility into a new space that could fully embody their vision. Determined to employ the best possible talent, they once again chose Unverzagt and  M1/DTW for design, and to build the new stainless steel stations and fixtures they chose  3-Dimensional Services.



3-Dimensional Services, a member of the 3-Dimensional Services Group (Rochester Hills, MI) is a firm that specializes in design, engineering and analysis, in-house soft tooling, and complete build of first-off prototype parts as well as low to medium volume production runs. Their use of advanced process methods and manufacturing technologies, plus the expertise of their staff, mean that prototype parts – not just models – are typically provided up to 70% faster than conventionally equipped prototype shops are able to offer.



"We were approached this spring to make the 21 new workstations for the expanded Birmingham salon," says Steve Kelly, sales engineer for 3-Dimensional Services, "each consisting of a total of 24 different components in all." The material was high quality, 300 Series stainless steel, a luxurious looking metal chosen to ensure the consistency of 6 Salon's signature look.



First, 3-Dimensional Services had to enter M1/DTW's CAD drawings into their system, then program the machines that would be required for the processing. For some companies these can be time consuming steps, but for 3-Dimensional this was quickly done as their design and engineering department utilizes advanced CAD software such as CATIA, Delcam, Mastercam, Unigraphics, SolidWorks and ProEngineer to name a few, allowing them to work from virtually any data files, blueprints, or even sketches.



From its many processing options 3-Dimensional Services chose to use its 3-axis, 6 kW CO2 NTC laser cutting system with a Rofin-Sinar laser. This system provides speed, accuracy and flexibility in the processing of sheet material. In addition, stainless steel, aluminum and other highly refractive metals can sometimes present problems for laser processing because of their reflective nature. This was no problem for 3-Dimensional's 3-axis laser, though, because of its high power.



Keeping the steel's surface free of large scratches, nicks and other blemishes was another issue. "It was imperative that we maintain the luxurious look of this material throughout processing and handling," notes Kelly, "because appearance is an essential aspect of these workstations. The instructions out on the floor for every aspect of this job stressed that fact." Fortunately, this wasn't the first time 3-Dimensional's skilled technicians had dealt with jobs where cosmetic factors were vital, so the right procedures and mindset were already in place.



After laser cutting and subsequent laser trimming came forming. 3-Dimensional Services has a variety of options for producing formed parts, including both hydraulic and mechanical presses, as well as press brakes and shears. In this case, its 100 ton Cincinnati press brake was chosen as the optimal tool. This was followed by welding and final assembly, all performed in-house.



The first fully fabricated station, with its 80 pounds of formed metal, flat lengths and tubes, was completed a mere week after 3-Dimensional Services received the plans. Unlike other salons, the stations in 6 Salon don't rest on the floor; instead, they are suspended by metal tubes that connect with a plate that attaches to the ceiling. It's another way in which the designer, Christian Unverzagt, has attempted to make "the architecture and space almost seem to disappear," using the combination of design and materials to augment the light and heighten the interaction between stylist and customer.



Installation of the 21 stations in the new, larger Birmingham facility began soon after the first stations were completed. This task was made easier by one of 3-Dimensional Services's design innovations: The needed fasteners are built in to the ceiling plates and pre-aligned for quicker installation.



When the new incarnation of 6 Salon Birmingham opens its doors in July 2013, visitors will encounter more of a destination than a shop, one designed to both soothe their senses and amaze their eyes. For this they can thank George and Johnny Nikollaj and Tomy Lulgjuraj, designer Christian Unverzagt, and 3-Dimensional Services.



"We're pleased with the work we did on this job, building these 21 innovative new workstations," says Steve Kelly. "And oh yes," he adds with a smile, "we also built their new stainless steel magazine racks and innovative 'tool' boxes."



The 3-Dimensional Services Group, consisting of 3-Dimensional Services, Urgent Plastic Services, and Urgent Design & Manufacturing, provides rapid prototyping low-volume production that include laser processing, injection molding and casting, stamping, machining, robotic and manual welding, waterjet, hydroforming, tube bending, vibration welding, casting and pattern fabrication, RIM tooling, SLA and LOM rapid modeling, and assembly.







More from Software