Bring Your Products to Life with Disposable Gas Cylinders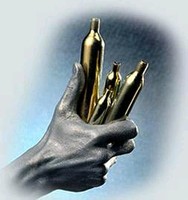 Fairfield, NJ - July 22, 2006 - Disposable gas cylinders from iSi Components, commonly used to fire sporting guns or inflate flotation devices and airbags, have recently been introduced into the design and manufacture of some innovative medical devices. Available in a complete range of single-use cylinders ranging in size from 10 ml to 700 ml (10 cc to 700 cc), and a variety of inert gases including carbon dioxide, nitrogen, nitrous oxide and argon, the versatility of a disposable gas charger system affords functionality with significant benefits to the medical device industry. Gas cylinders may be used for critical functions such as inflation, pressurization, propulsion, cooling, particle acceleration, or as a form of mechanical energy. Associated benefits include portability, ease-of-use, reduced capital expenditures, and patient comfort.

Disposable gas cylinders from iSi® feature maximum reliability, and are manufactured to stringent quality and safety standards, for unmatched performance in critical applications. The company is ISO 9001:2000 Certified, and its quality management program includes 100% safety testing, 100% accelerated leak-proof testing, computerized QA records and controls, weight checks and controls throughout the manufacturing process, and independent audits and certification. USP 28 Gas Quality Certificates are available upon request.

Innovative medical devices that utilize iSi's disposable gas cylinders have recently been approved and released to market. One such innovation is a balloon angioplasty device for the treatment of peripheral vascular disease. Similar to a conventional angioplasty device, it utilizes a liquid nitrous oxide cylinder to inflate the balloon instead of traditional saline. The gas also cools the vessel during dilation, which may be more gentle than traditional angioplasty, with possible associated clinical benefits.

Another example of innovative technology is a minimally invasive, hand-held breast biopsy device that is an alternative to more traditional spring-loaded biopsy devices. The gas from the disposable cylinder propels and retracts the biopsy needle with a high degree of precision and reliability, and allows the tissue to adhere to the core biopsy sampler in volumes larger than those typically retrieved by more traditional methods.

iSi Components is a subsidiary of the iSi Group, the world's largest manufacturer of disposable gas cylinders. With headquarters in Vienna, Austria, iSi Components operates within the United States from its facility at iSi North America, Inc. in Fairfield, NJ. In addition to the medical device industry, iSi Components serves markets including drug delivery, inflatable life-saving devices, veterinary appliances, military applications, safety and security, fire protection, tire filling and repair systems, and special effects. The iSi Group also has a widely known Consumer Products division that manufactures hand-held cream whippers and soda siphons for the food and beverage industry, and is also active in the automotive industry with products from iSi Automotive. For additional information, please visit www.isicomponents.com.