Brinell Hardness Test Block is ASTM E10 and ISO 6506 compliant.
Press Release Summary: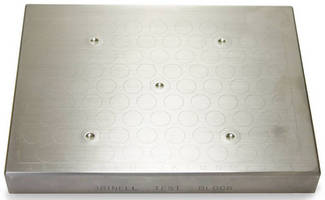 Made in USA, ASTM E10- and ISO 6506-compliant Brinell hardness test blocks are designed with 6 x 4.5 in. test surface and come with certificate of calibration traceable to NIST. There are 80 indents per block on average for increased testing capability, and engraved indent placement pattern ensures appropriate indent spacing is maintained. Also, factory calibration indents appear in octagonal pattern to facilitate identification.
---
Original Press Release:
New Wilson® Brinell Hardness Test Blocks
Wilson Hardness, an Instron® company and the originator of the Rockwell® Hardness Tester, is pleased to announce its new Brinell hardness test block. Made in the USA by Wilson Hardness, the world's premiere NVLAP accredited calibration laboratory, these test blocks are both ASTM E10 and ISO 6506 compliant. Our Brinell hardness test blocks are supplied with the industry's most comprehensive certificate of calibration, traceable to National Institute of Standards and Technology (NIST). Designed with a test surface measuring 6 x 4.5 inch (152.4 mm x 114.3 mm), the number of indents per block has been increased from 35 to 80 on average, providing 128% more tests on a single test block. The larger size and increased life will result in fewer orders, resulting in lower administrative costs for consumers. Additional features include:
Engraved indent placement pattern ensures appropriate indent spacing is maintained, eliminating erroneous readings.
Factory calibration indents appear in octagonal pattern for easy identification.
Leatherette covered steel carrying case with safety clasp. About Wilson Hardness Wilson® Hardness is the leading provider of testing equipment for hardness testing in the metals and plastics markets. Wilson Hardness, the originator of Rockwell® Hardness Testers, designs, manufactures and markets a comprehensive line of Rockwell, Microindentation, MicroRockwell, Brinell and Portable hardness testing instruments, software, accessories and services. The hardness testing companies of Instron are Shore Instruments and Wilson® Hardness. A global company providing single-source convenience, Instron manufactures and services products used to test the mechanical properties and performances of various materials, components and structures in a wide array of environments. Instron systems evaluate materials ranging from the most fragile filament to advanced high-strength alloys, providing customers with comprehensive solutions for all their research, quality and service-life testing requirements. Additionally, Instron offers a broad range of service capabilities, including assistance with laboratory management, calibration expertise and customer training. For more information, contact Instron, 825 University Avenue, Norwood, MA 02062-2643; 1-800-695-4273; fax 1-781-575-5770; email info_news@instron.com. Information is also available on the company's enhanced website at www.wilsoninstruments.com.
More from Thermal & Heating Equipment