Bridges are suited for crowded areas.
Press Release Summary: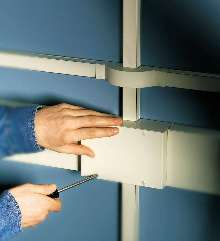 Surface Raceway Bridge bridges over common field obstacles such as pre-existing raceways and conduit. Model SMS4257B, 2157B, and 3257B fittings provide solution to install raceways in crowded areas. Bridges are 100% compatible with company's SMS2100, 3200, and 4200 series raceways as well as other comparable raceways.
---
Original Press Release:

Innovative New Raceway Bridge


RYE BROOK, NY DECEMBER 10, 2002

Further developing their product line, MonoSystems' has introduced a revolutionary new Surface Raceway Bridge that easily "bridges over" common field obstacles such as pre-existing raceways and conduit. These patent pending fittings, SMS4257B, 2157B and 3257B, provide a fast, easy and attractive way to install raceways in crowded areas. Bridges are 100% compatible with MSI's popular SMS2100, 3200, and 4200 series raceways and other comparable raceways.

Since 1970, Mono-Systems, Inc. has manufactured innovative electrical and data cable distribution products for industrial, commercial, educational, institutional, and residential applications. This includes patented and patent pending surface raceways, cable trays, power poles and in-floor systems. For more information, visit www.monosystems.com or call 1-888-764-7681.

Mono-Systems, Inc. (MSI)
COMPANY & PRODUCT FACT SHEET

Company Overview: Mono-Systems, Inc. (MSI) is a 30-year-old manufacturer of electrical and data cable distribution products for industrial, commercial, educational, institutional, and residential applications.

Product lines include: Surface Raceways, Cable Trays, Power Poles and In- Floor Systems, many of which are patented or patent pending innovations.

Major Product Lines: Raceways
o Steel (SMS500/700, 2100, 3200, 4200, 4400, The Bridge(TM),
The Hook(TM))
o Aluminum (SWA2200, 3200, 5200)
o PVC (SWP5200, Latch Duct, CableHider(TM), CoveWay(TM), CordWay(TM))
o Pre-Wired

Cable Trays
o Ladder Trays (Power-Tray®)
o Center Hung Trays (Mono-Tray(TM))
o Wire Mesh Trays (Mono-Mesh(TM))
o Ladder Racks (Mono-Rack(TM))

Power Poles
o Steel Poles (SPS22, 31, 32)
o Aluminum Poles (SPA22, QP22)

In-Floor Systems
o Underfloor Ducts
o Wall Ducts
o Trench Ducts
o Floor boxes

Website: www.monosystems.com

Company Contact: Jordan Handler, President
4 International Drive
Rye Brook, NY 10573
(914) 934-2075
Fax: 914-934-2190
jhandler@monosystems.com

Agency of Record: Cooper Leder Marketing, Inc.
Contact: Mark Ross, EVP/Branding Strategies
393-Jericho Turnpike, Mineola, NY 11501
(516) 742-4200 x40
(516) 742-6677
mark.ross@cooperleder.com
cooperleder.com

More from Material Handling & Storage