Bridgeport's "Team Done That" Works with Contractor to Quickly Remedy Failed Inspection, Saving Time and Money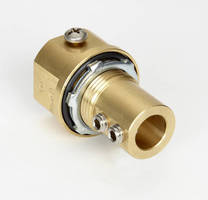 STRATFORD, Conn. – "Team Done That," an in-house group of licensed electricians at Bridgeport Fittings, recently saved the day for an electrical contractor whose wiring job failed to pass inspection.



The contractor had wired a new electric room for a hospital lab but the job failed inspection because of improper bonding. The cause? The contractor had used grounding bushings with undersized lugs and bonding jumpers for the 4/0 AWG grounding conductor. The code requires the use of a bonding jumper the same size as the grounding conductor. Instead, the contractor used a 1-inch grounding bushing with a #14-#4 AWG lug and a #4 AWG bonding jumper. Rather than changing the lug out to a larger size and voiding the UL Listing, Bridgeport's MCH-100 was found to be the much better solution.



The job's inspector remembered being shown Bridgeport's Mighty-Bond® MCH-100 Raintight Grounding and Bonding Hub at a recent IAEI conference and recommended the solution to the contractor. The contractor immediately contacted a Bridgeport technical sales manager to place an order. Once the product was in hand, it took just under an hour to install the new grounding and bonding hub. The job immediately passed inspection making the MCH-100 the winning choice – a success both at the contractor level, and the inspector training level.



"This time- and money-saving solution shows contractors that Bridgeport offers more than just fittings but also works with, and listens to, contractors to ensure the most productive outcomes on the job site," noted Wayne Beach, Director Technical Sales at Bridgeport and member of "Team Done That."



The Mighty-Bond® MCH-100 Raintight Grounding and Bonding Hub is part of Bridgeport's full range of electrical solutions found in the "Wall of Orange™" – a completely stocked selection of quality electrical fittings and innovative product solutions available from major electrical distributorships across the U.S. and Canada.



For more information about Bridgeport's Mighty-Bond MCH-100 Raintight Grounding and Bonding Hub and other solutions that help contractors become more productive on the job site, contact: Bridgeport Fittings, Inc., 705 Lordship Blvd., Stratford, CT 06615; Tel: 203-377-5944; Fax: 203-381-3488; or visit Bridgeport's Website at http://www.bptfittings.com.





More from Software