Bridgeport's "Team Done That" saves the day for large Texas contractor faced with delay in finding right fitting for construction project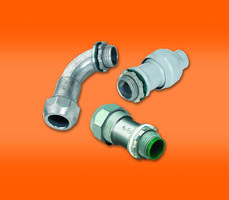 STRATFORD, Conn. (Nov. 28, 2016) - While constructing a multi-story parking deck, a large contractor in Texas was having difficulty finding and installing a properly sized fitting listed for concrete encasement of Jacketed MC-PCS cable. The fitting the contractor was using was damaging the conductors during installation. That's when a member of Bridgeport's 'Team Done That' sprang into action.
Wayne Beach, the Team's regional technical sales manager, did some research and found the type of Jacketed MC-PCS cable required for the job: a Bridgeport 596-DC2 fitting listed for the brand and size of MC-PCS cable the contractor had been employing. In addition, the solution was listed for concrete encasement, as well as wet locations.
Once the solution was approved by the project engineer, the contractor placed a high volume order for the new fittings. Problem solved!
Besides the Jacketed MC-PCS cable solution (also known as parking deck cable), related Bridgeport products can be found in technical data sheets on the company's website under "Literature/Technical Documents." For example, the website's information covers all Bridgeport MC fittings tested on numerous manufactures of non-Jacketed MC-PCS cable, sized for the 1/2-inch knockouts in lighting fixtures. Bridgeport also offers Jacketed MC cable available in 90-degree angles, as well as coated for direct burial use.
Bridgeport 596-DC2 fittings are part of Bridgeport's full range of electrical solutions that can be found in the "Wall of Orange™" – a completely stocked selection of quality electrical fittings and innovative product solutions available from major electrical distributorships across the U.S. and Canada.
For more information about Bridgeport's solutions that help contractors become more productive on the job site, contact:
Bridgeport Fittings, Inc.,
705 Lordship Blvd., Stratford, CT 06615;
Tel: (203) 377-5944;
Fax: (203) 381-3488;
Website http://www.bptfittings.com.
Media contact:
Harry McBrien,
Maier True Communication,
(860) 470-3127;
More from Material Handling & Storage