Bridge ConverterTransformers provide 720 W of power.
Press Release Summary: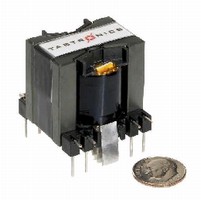 Utilizing Hyper-X Magnetic Technology, Model HXTH01260 dissipates less than 1% of output power while delivering 12 V at 60 A from 400 Vdc input. Housed in PZ32030 package with 42.40 x 33.66 mm footprint and max height of 33.00 mm, transformers use thick tinned-copper terminations for high current center-tapped secondary. All parts have operating temperature range of +125 to -40°C and meet RoHS requirements.
---
Original Press Release:


Tabtronics Announces Ultra-High Efficiency Transformers for 150 kHz Bridge Converter Applications




HXTH01260 provides 720 watts of efficient power in a compact PQ32/30 package.

Rochester, NY Oct. 11, 2005 -- Tabtronics Inc., a world leader in high-efficiency magnetic components, announced the release of a surprisingly powerful off-the-shelf bridge converter transformer for modern power applications.

The HXTH01260 transformer utilizes the company's Hyper-X Magnetic Technology to dissipate less than 1% of output power while delivering 12 volts at 60 amps from a 400 volt DC input - all from the compact PQ32/30 package.

HXTH01260 Hyper-XMT(tm) BRIDGE TRANSFORMER
The HXTH01260's rugged construction uses thick tinned-copper terminations for the high current center-tapped secondary. These foil terminations can be changed to accommodate unique interface requirements. The footprint is 42.40 mm x 33.66 mm maximum with a maximum height of 33.00 mm.

For a nominal 400 volt DC input through an H bridge switching configuration, the transformer uses full wave center-tapped rectification to provide 12 volt DC output while operating at approximately 62.5% duty cycle. All parts have an operating temperature range of +125 degrees Celsius to -40 degrees Celsius.

RoHS Compliant / Lead Free Construction
Tabtronics' off-the-shelf Hyper-XMT power components meet modern safety and RoHS requirements. The entire Hyper-XMT product line is customizable to meet customer specific application demands.

Please contact Tabtronics directly for volume pricing and samples.

About Tabtronics Inc.
Tabtronics specializes in developing high-performance power magnetic components. The company's technology is relied upon by military, avionics, and high technology customers.

Tabtronics has 25 years experience in direct manufacture of electromagnetic components, and also licenses its technology to other manufacturers and system integrators. The firm's continuing focus is the development of innovative methods to provide efficient power through smaller components. As an ISO 9000-2000 registered manufacturer, Tabtronics consistently helps technology leaders win market share by means of performance advantages.

Tabtronics Inc., thinking big. designing small. magnetics to the highest power (TM).

For more information, visit the company's web site at www.tabtronics.com

Tabtronics, Inc.
Roger Evans
Business Development Manager
email: revans@tabtronics.com
phone: 585-243-4331 x170


More from Communication Systems & Equipment