Bridge allows remote expansion of PC/104-PCI systems.
Press Release Summary: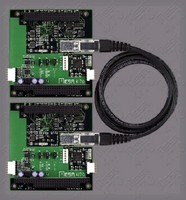 Model 4I70 serves as PCI-to-PCI Express or PCI Express-to-PCI bridge on PC/104-PCI card. Two 4I70 cards connect via single lane Infiniband cable and bridge PC-104/PCI stack with CPU to remote stack that can support up to 4 bus master PC/104-PCI peripheral cards. Remote 4I70 can be up to 5 m from local 4I70. Bridge has built-in 3.3 V power supply, which provides up to 2.5 A of 3.3 V power to remote peripheral stack so that only 5 V power is required.
---
Original Press Release:

4I70 PC/104-PCI Remote Bridge



The 4I70 is a PCI to PCI Express or PCI express to PCI bridge on a PC/104-PCI card.
Two 4I70 cards and a single lane Infiniband cable make complete remote PCI bridge system for the PC/104-PLUS bus. The 4I70 allows remote expansion of PC/104-PCI systems and solving problems with PC/104-PCI card stack mechanical constraints. The 4I70 can also allow Data Acquisition and Wireless peripheral cards to be placed in ideal locations, which may be at some distance from the host CPU. The 4I70 also allows testing of PC/104-PCI cards without powering down the host.

Normally 4I70 cards are used in pairs, one jumpered for forward bridge mode (PCI-Express to PCI) and one jumpered for reverse bridge mode (PCI to PCI Express). The two 4I70 cards connect via a single lane Infiniband cable and bridge a PC-104/PCI stack with the CPU to a remote stack that can support up to 4 bus master PC/104-PCI peripheral cards. The remote 4I70 can be up to 5 meters from the local 4I70. The 4I70 has a built in 3.3V power supply and can supply up to 2.5 Amps of 3.3V power to the remote peripheral stack so that only a single 5V power is required.

Price of the 4I70 in 100s is $83.00

MESA ELECTRONICS
4175 Lakeside Drive, Ste. 100
Richmond, CA 94806-1950
www.mesanet.com - sales@mesanet.com
phone 510.223.9272 - fax 510.223.9585

More from Software