Brass Tube Fittings differentiate between English and Metric.
Press Release Summary: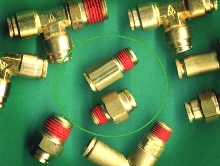 To distinguish between fittings made to English and Metric standards, length and diameter of wrenchable hex section of fittings are different. On metric types it is short axially and large across flats. On English types it is long axially and small across flats. Fittings include metric sizes that join 4 to 12 mm OD tubing with 2 to 8 BSP threads and English sizes that join 1/8 to 1/2 in. tubing with 1/8 to 1/2 in. pipe.
---
Original Press Release:
New Alkon Fittings Offer Visual Clues To English / Metric Threads

FREMONT, OH--Newly produced brass tube fittings from Alkon Corp. save time and prevent error for both distributors and users. The heretofore common problem of distinguishing between fittings made to English and to Metric standards is now eliminated on these new Alkon products by their decidedly different appearance.

The difference lies in the length and diameter of the wrenchable hex section of the fittings. On Metric types it is short axially, and large across the flats. On English types it is long axially and small across flats. This unique Alkon feature enables anyone to tell one fitting type from another immediately and unerringly.

This benefit applies to all Alkon fitting types, including the firm's quick, toolless "Push-In" fittings for plastic tubing. These permit an instant seal between fitting and tubing, which is bubble-tight up to the burst pressure of the tubing. The connection can be made and unmade almost indefinitely, using only finger force.

Fittings with this "new look" include Metric sizes that join 4 to 12 mm O.D. tubing with 2 to 8 BSP threads and English sizes that join 1/8- to 1/2-in. tubing with 1/8-in. to 1/2-in. pipe. Metric and English sizes include both male and female pipe threads.

Also new are Metric-English adapter unions in a variety of size combinations, as are custom versions of these products on special order.

Alkon continues to produce its well known line of DOT (US Department of Transportation) fittings; flow-control, needle, and check valves; Push- In manifolds; and related accessories.

For full details on Alkon's new visually differentiated Metric and English Push-In fittings or other Alkon products, use the Reader Service Card or contact Daniel Starkweather, Customer Service Manager, at Alkon Corp. directly.

Editors: for further information, contact:
Mark Radoff, Chief Engineer.
Alkon Corp.
728 Graham Dr.
Fremont, OH 43420 419-333-7000, x19

More from Transportation Industry Products