Brass Shaft Collars and Couplings resist corrosion and galling.
Press Release Summary: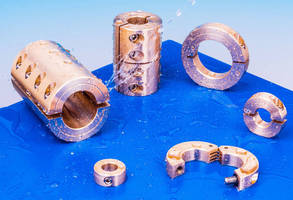 Machined from C360 brass or optional C464 Naval brass, Stafford Brass Shaft Collars come in 1- and 2-piece styles with stainless steel fasteners as well as set-screw and hinged styles. These products, offering alternative to 304 and 316 stainless steel products, are designed for secure hold and come in 6 standard sizes from ½–1 ½ in. ID for commercial, industrial, and military applications. Modifications – keyways, square and hex bores, grooves, and other treatments – are available.
---
Original Press Release:
Brass Shaft Collars & Couplings; Corrosion-Resistant Alternative to Stainless Steel
A new standard line of brass collars and couplings with stainless steel fasteners that hold securely and resist corrosion and galling is being introduced by Stafford Manufacturing Corp. of Wilmington, Massachusetts.

Stafford Brass Shaft Collars are offered in one-piece, two-piece, set-screw, and hinged styles and the brass couplings in one- and two-piece styles; with stainless steel fasteners.  Machined from C360 brass or optional C464 Naval brass, these corrosion-resistant shaft collars and couplings are a lower cost alternative to 304 and 316 stainless steel products.

Suitable for commercial, industrial, and military applications, Stafford Brass Shaft Collars & Couplings are available in six standard sizes from 1/2" to 1-1/2" I.D.  Ideal for use with pumps, mixers, impellers, propellers and other brass components, they can be modified with special features such as keyways, square and hex bores, grooves and other treatments.

Stafford Brass Shaft Collars & Couplings are priced according to size and quantity.  Price quotations are available upon request.

For more information contact:
Stafford Manufacturing Corp.
Jim Swiezynski, Technical Director
P.O. Box 277
North Reading, MA 01864-0277
(800) 695-5551  FAX (978) 657-4731
e-mail: jswiezynski@staffordmfg.com
deep link: http://www.staffordmfg.com/News/Brass-Shaft-Collars-and-Couplings-Offer-Corrosion-Resistant-Alternative-to-Stainless-Steel
www.staffordmfg.com
More from Communication Systems & Equipment