Brake provides high-efficiency option for rails.
Press Release Summary: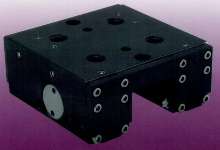 Spring-engaged, air-released Profile Rail Brake is designed for max holding and/or dynamic braking. Suited for power-off safety conditions, linear motion control device integrates into profile rail system and is kept disengaged with air pressure. In disengaged mode, brake allows nearly frictionless movement of carriage until air is exhausted and internal springs apply force on brake mechanism that clamps brake onto both sides of rail.
---
Original Press Release:

New Brake Provides Low Cost, High Efficiency Option for Rails


(Vadnais Heights, Minn. - August 10, 2004) Nexen Group, Inc., today announced the Profile Rail Brake, their newest linear motion control device. The Nexen Profile Rail Brake is the most competitively priced and efficient brake on the market today. This spring-engaged, air-released unit is compact and easy to install in existing systems. It's designed for maximum holding and/or dynamic braking, which makes it ideal for power-off safety conditions.

The rail brake is easily integrated into a profile rail system and is kept disengaged with air pressure. In the disengaged mode, the brake allows nearly frictionless movement of the carriage until air is exhausted and the internal springs apply a force on the brake mechanism that clamps the brake onto both sides of the rail. A normally closed, directional control valve is open to the air supply when energized. In a power-off condition, the valve blocks the air supply allowing air to escape and the springs to apply the force to a clamping mechanism.

Nexen's Profile Rail Brake is able to hold large loads in all axes and performs dynamic stops within a short amount of time and distance. This product provides a very high clamping force directly onto the center web of the guide rail. The rail brake has a small air chamber, which means low air consumption, saving energy as well as operating time.

Nexen is a leading manufacturer of brakes, clutches, servo motor and linear motion brakes, torque limiters, overload protection devices, and web tension control systems for a variety of industrial applications ranging from motion control and robotics to packaging and material handling. With headquarters in Vadnais Heights, Minn., Nexen has more than 40 worldwide sales offices and more than 1,500 worldwide distributor sales outlets.

For more information on Nexen's Profile Rail Brake, visit the Nexen website at: nexengroup.com/RBC

Bobbi J. Jensen
Marketing Communications
560 Oak Grove Parkway
Vadnais Heights, MN 55127
651/286-1054

More from Mechanical Power Transmission