Brady's New Handheld Sleeve Applicator Features Coated Slanted Tubes
Press Release Summary: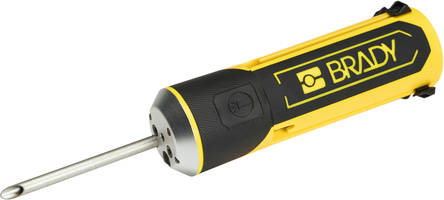 QuickSleeve Handheld Sleeve Applicator comes with terminal block-sized screwdriver and an LED flashlight. The multi-tool simplifies the application of sleeves onto wires with slanted tubes that are specially coated. The QuickSleeve Handheld Sleeve Applicator fits four standard sleeve sizes in the electrical industry.
---
Original Press Release:
Brady Releases New Intuitive QuickSleeve Handheld Sleeve Applicator: Easy-to-Use Multi-tool Increases Wire Labeling Efficiency
MILWAUKEE, Wis. (April 10, 2018) — Brady (NYSE:BRC), a global leader in industrial and safety printing systems and solutions, announced today the release of the new QuickSleeve Handheld Sleeve Applicator. The intuitive handheld device is designed for the fast application of sleeves on to wires. This multi-tool features specially designed slanted tubes, a terminal block-sized screwdriver and an LED flashlight.
"The specially coated slanted tubes of the QuickSleeve Handheld Sleeve Applicator are specifically engineered to make the process of applying sleeves to wires faster and more efficient," said Christopher Boucher, associate global product manager at Brady. "At Brady, we have a reputation of producing innovative products that make our customers' work easier, and QuickSleeve further solidifies that reputation."
The slanted tubes of the QuickSleeve applicator are specifically sized to fit four common sleeve sizes used in the electrical industry. This multi-tool also includes a screwdriver for terminating wires and an LED flashlight for low-lit environments, so users can free up space in their belt and do it all with one simple, efficient tool.
For More Information
For the complete product offering from Brady, visit BradyID.com.
About Brady Corporation:                           
Brady Corporation is an international manufacturer and marketer of complete solutions that identify and protect people, products and places.  Brady's products help customers increase safety, security, productivity and performance and include high-performance labels, signs, safety devices, printing systems and software. Founded in 1914, the Company has a diverse customer base in electronics, telecommunications, manufacturing, electrical, construction, medical, aerospace and a variety of other industries. Brady is headquartered in Milwaukee, Wisconsin and as of July 31, 2017, employed approximately 6,300 people in its worldwide businesses. Brady's fiscal 2017 sales were approximately $1.11 billion. Brady stock trades on the New York Stock Exchange under the symbol BRC. More information is available on the Internet at www.bradycorp.com.
Media Contact:
Jackie Hahn, (414) 438-7024
Product Contact:
Christopher Boucher, (414) 255-6664
Christopher_Boucher@bradycorp.com
More from Agricultural & Farming Products