BPM Solutions for Transportation and Trucking companies USA, Canada and UK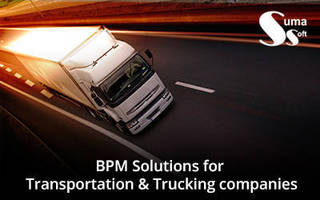 Texas (USA), Canada (Toronto) UK (Business Network):



Suma Soft, a leading provider of BPM solutions for Transportation and Trucking companies in USA, Canada and UK helps the enterprises with cost-effective work management tools and software solutions to enhance their business practices. In a challenging global environment, Suma Soft's services empower logistics companies with web-based tools, mobile applications and secure portals.



For Transportation and Trucking companies in USA, Suma Soft offers centralized back office support and services such as:



1. Track and Track Shipment, Document Posting Accounts Payable Services

Suma Soft tracks and traces the shipment through calls, emails, and others. Once the shipment related document is received from the carriers, they are posted to loads under document posting. Document follow-up is critical for payment approval, under which documents are tracked through calls, emails and others.



2. EDI Exception, Exception Management and Cost Analysis

EDI exception includes reviewing EDI data from carriers to loads, research and appling EDI transactions to load. The next process is exception management that refers to communicating with account managers to complete the transaction. Cost Analysis involves reviewing shipment invoices for clients and providing analysis on potential savings for various plans.



3. Load Building and Customs Documentation

In load building, based on the requirements of the client, loads are fed into the client's system accurately. Customs documentation is the last process under which customs documentation is created on basis of the information provided in documents.



Suma Soft is a certified company for BPM solutions for Transportation and Trucking companies in USA, Canada and UK with ISO 9001:2008 Quality management system and ISO 27001:2013 Information security management system. For 15 years, the company has been actively resolving the the most critical logistics back office needs for global enterprises and helping them with reduced errors, accelerated billing process and better cash flow. For more informations - http://www.sumasoft.com/bpo-for-logistics-and-supply-chain-usa/.



More from Communication Systems & Equipment