Box Furnace suits research and production applications.
Press Release Summary: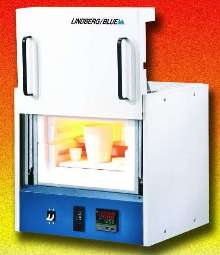 Offered with temperatures from 100 to 1,200°C, Lindberg/Blue M LGO(TM) Series is available with single setpoint or programmable PID microprocessor controllers. Chamber capacities are available in 0.6 ft³ with vertical lift door or 2.0 ft³ with horizontal side-hinge door. Light Gauge Overbend (LGO) heating elements imbedded within Moldatherm® insulation deliver maximum radiant heat energy to process load and ensure efficient heat transfer.
---
Original Press Release:

1200°C LGO(TM) Series Box Furnaces Reduce Thermal Process Cycle Times


ASHEVILLE, N.C., Sept. 29, 2003 - Versatile Lindberg/Blue M LGO Series Box Furnaces incorporate patented heating elements for fast heat-up, recovery, and reduced processing times, and provide superior temperature uniformity in demanding research and production applications.

Models offer temperatures from 100°C to 1200°C and chamber capacities of either 0.6 cu. ft. (17.0 L) with a vertical lift door or 2.0 cu. ft. (56.6 L) with a horizontal side-hinge door. Patented LGO (Light Gauge Overbend) heating elements imbedded within exclusive Moldatherm® insulation deliver maximum radiant heat energy to the process load and ensure efficient, economical heat transfer.

LGO Series Furnaces are available with advanced single setpoint or programmable PID microprocessor controllers for sophisticated temperature control. Programmable controllers provide either 16 or 300 segments for ramping and dwell functions. An 'Auto-Tune' function provides the best control possible for each temperature setpoint, while intuitive 'Super Control' suppresses temperature overshoot by using fuzzy logic to learn from previous ramp-up experience.

Standard features on all models include an air vent and air inlet for inert atmosphere exchange, Platinel II® thermocouple, safety door switch and removable shelves. A Moldatherm hearthplate supports load and prevents damage due to spillage.

An optional RS-485 digital communications port allows remote monitoring and furnace control via a personal computer. SPECVIEW PLUS® software provides data logging of any variable and the ability to monitor and control up to 30 furnaces from a single PC.

Kendro Laboratory Products is a global leader in products and services for Life and Materials Science, Drug Discovery and Bioprocessing. With world-renowned brands including Revco®, SORVALL® and Heraeus®, Kendro designs, manufactures and markets a wide range of equipment for sample storage, preparation and processing. Kendro Laboratory Products, a unit of SPX Corporation, employs more than 1600 associates around the world. The company serves its customers through an extensive network of direct sales, distribution partners and service representatives in over 150 countries. For more information about Kendro, please contact: Kendro Laboratory Products, 275 Aiken Road, Asheville, NC 28804 USA; Tel: (828) 658-2856; Fax: (828) 645-9466; or visit: www.kendro.com

More from Communication Systems & Equipment