Boutique Hotel at Avalon and Alpharetta Conference Center Completed with AGC Glass ENERGY Select® 28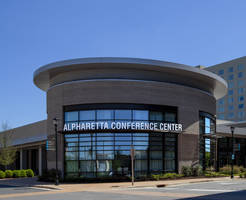 272,000 square feet of hospitality and event space features high-performance, low-e coated glass
Alpharetta, GA. May 20, 2019 — Approximately 45,000 square feet of AGC Glass North America's ENERGY Select® 28 high-performance, low-e coated glass completes the Hotel Avalon and Alpharetta Conference Center in Alpharetta, GA.
"AGC ENERGY Select provided the right color range we needed, the right level of reflectance, and the ability to meet required energy code standards," says Jason King, Senior Associate of Cooper Carry, the firm responsible for the design. "The AGC team was very helpful to us in providing the information we needed, the samples, and all other materials in a timely fashion so we could obtain ownership and stakeholder signoff on schedule."
ENERGY Select 28 combines excellent solar control, a neutral appearance, and low reflectivity, making it ideal for a warmer climate like Georgia.
"We used a lot of very clear glass at the lower levels of the hotel to achieve the same level of transparency as retail storefronts," King says. "Higher up, the goal was to create privacy for guests via glass with a low level of reflectance that could also comply with energy code requirements."
ENERGY Select 28 provides exceptional solar blocking performance while maintaining a high level of visible light transmission, maximizing building performance and indoor comfort — a perfect combination for the development, which serves approximately 600 local technology companies.
"Our intent was to design a 4.5-star hotel, incorporated in a location principally catering to a high-end retail area. We wanted to honor and complement the brick, stucco, and glazing used in the larger Avalon development while creating a destination for the clientele who visited specifically for the retail element," King says.
The 325-room hotel and conference space anchors the Avalon development. The Hotel at Avalon contains 44,000 square feet of flexible event space and 10,000 square feet dedicated for exhibit space. It connects directly to the Alpharetta Conference Center, and its amenities include a pool, spa, and South City Kitchen, a Southern-style restaurant.
The Hotel Avalon and Alpharetta Conference Center was completed in late 2017. Cooper Carry provided architectural and design services, and the general contractor was Brasfield & Gorrie. Oldcastle Covington was the fabricator, and the glazing contractor was Gardner Glass and Glazing.
About AGC Glass North America
AGC Glass is the world's largest manufacturer of glass and glass-related products. The company offers the widest range of flat glass for architectural, interior, and residential applications. AGC Glass North America is part of the AGC Group, employing more than 50,000 worldwide in approximately 30 countries. As a global company, AGC leverages its many resources to develop innovative new products and to offer world-class service that is second to none. AGC glass products are available through an extensive network of glass fabricators and window manufacturers in the U.S. and Canada. To learn more, visit our website at www.agcglass.com.
Contact:
Nick Murosky – LarsonO'Brien
412-831-1959 x123 | nick.murosky@larsonobrien.com
Related