Bottle Handle Applicator handles 20 cases/min.
Press Release Summary: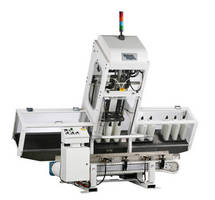 PolyPro single-station multipack bottle handle applicator applies high-density polyethylene (HDPE) carrying handles to 4, 6, 12, and 24 unit cases for most common bottle and jug sizes and material compositions. Bottle alignment technology ensures accurate placement of handle, and high capacity magazine allows for 45 minutes of operation without handle-loading intervention. Featuring durable powder-coat finish, machine can be ordered in either automatic or semi-automatic configuration.
---
Original Press Release:

Roberts PolyPro Introduces an Innovative 20-Case-Per-Minute Plastic Handle Applicator



CHARLOTTE, N.C. - Roberts PolyPro, powered by Pro Mach, will introduce at Pack Expo 2011 in Las Vegas, September 26-28, its new single-station multipack bottle handle applicator. The new applicator was specifically designed for lowest total cost of ownership, highest versatility, and simplest operation. The machines can be ordered in either automatic or semi-automatic configuration. The automatic applicator has a rated throughput of 20 cases per minute. See the new multipack applicator at the Roberts PolyPro Booth #C-1517.

With a single head, the new applicator efficiently applies high-density polyethylene (HDPE) carrying handles to 4, 6, 12, and 24 unit cases for most common bottle and jug sizes and material compositions. A single machine with change parts will apply two-, three-, four-, and six-pack carrier handles. Roberts PolyPro bottle alignment technology ensures accurate placement case after case.

Roberts PolyPro reduced the number of parts and streamlined the design, as compared to past machines, to enable ease of use and ensure low maintenance. The machine requires minimal training to set up, operate, and maintain. In automatic operation, this multi-pack applicator can run on average for 45 minutes without handle-loading intervention thanks to a high capacity magazine. The applicator features a durable powder-coat finish.

"We looked at the cost and operational requirements of packagers in the U.S. and in Latin America and designed a state-of-the-art machine that is priced competitively, while delivering phenomenal versatility and ease of use," said Roy Tetreault, general manager, Roberts PolyPro. "The combination of price and versatility is going to appeal to contract packagers and brand owners alike."

The new machine can be specified to apply not only Roberts Polypro HDPE handles, but also injection-molded handles from other suppliers. The ability to be vendor neutral in terms of handles gives the contract packager greater flexibility and enables the packager to meet most customers' requirements with one machine. This opens the door to more business at lower capital costs and optimum return on investment.

More sustainable solution

Field analysis of Roberts PolyPro recyclable HDPE two-pack carriers compared to injection molded handles showed that the HDPE handles were made with 41.5 percent less plastic than the injection molded handles. The field analysis found that because Roberts PolyPro handles lay flat for shipment there were 67 percent more handles per pallet. Less material, more units per truckload, and the recyclability of HDPE help to improve the environmental and business sustainability of the operation.
View a video of the new Roberts PolyPro single-station carrying handle applicator. For more information, call Roberts Polypro at 800-269-7409 or visit RobertsPolyPro.com. At Pack Expo, stop by the Roberts PolyPro booth #C-1517 to see the company's latest solutions in plastic and paper handles and application equipment.

About Roberts PolyPro

Roberts PolyPro, Powered by Pro Mach, offers innovative product packaging solutions for consumer packaged goods and pharmaceutical companies. The company is a leader in manufacturing plastic and paper bottle carriers, box handles, pour spouts, j-hooks, and a complete line of standard and custom feeder and folder/gluer machinery. Roberts Polypro is based in Charlotte, N.C. Visit Roberts PolyPro at RobertsPolyPro.com.

About Pro Mach

Pro Mach, Cincinnati, Ohio, is a leading provider of integrated packaging products and solutions for food, beverage, household goods, pharmaceutical, and other diverse consumer and industrial companies. Through three business units and related divisions, Pro Mach provides equipment, training, installation, and parts in primary packaging, end-of-line packaging, and identification and tracking. ProMachInc.com

More from Material Handling & Storage