Bosch's Latest GKF Capsule Filling Machine Delivers an Output of 720 Capsules per Minute
Press Release Summary: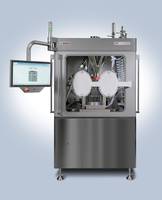 Bosch's GKF 720 Capsule Filling Machine is engineered for processing pellets, tablets and powders. Unit features patented, automatic height-adjusting pellet station and a manually height-adjustable dosing disk. The machine's regular adjustments of dosed amounts through IPC offers stable capacitive measuring process. Unit is equipped with Net Weight Detection System (NWDS) and the integrated gravimetric checkweigher. GKF 720's plug-and-play station allows switching between powders and pellets.
---
Original Press Release:
New Bosch GKF 720 Capsule Filling Machine Ensures the Highest Safety
High containment for highly potent pharmaceuticals
Best practice high containment solution meets OEB5 requirements
Height-adjustable pellet station and new, highly automated weight control processes
Interchangeable modules ensure maximum flexibility
Stuttgart / Frankfurt, Germany – At Achema 2018, Bosch Packaging Technology presents a fast high-precision capsule filling machine for small batches. Thanks to the specially designed platform for a fully automated washable containment process, the new GKF 720 ensures efficient and resource-saving processing for all types of hard capsules. "The system has been specially tailored to the demands of manufacturers of highly potent solid pharmaceuticals," says Benedict Kleine-Koenig, product manager at Bosch Packaging Technology. "During the development, the focus was on satisfying their high safety requirements, as well as process precision and stability. The OEB5 containment ensures the highest protection for the operator, machine and product, while its minimal water requirements, 100% defective capsule detection and compact design translate into additional cost savings." Building on many years of experience with the 702 ProTect and 1700 HiProTect series, the GFK 720 completes the Bosch containment portfolio with an output of 720 capsules per minute.
Washable containment with minimal water consumption
In the first cleaning stage of the GKF 720, the components that come into contact with the product are automatically cleaned from above with 200 milliliters of water, binding the highly potent residual dust. In the second stage, the processing area is manually flushed with ten liters of water maximum, quickly and completely ridding it of any product residue. The specially designed tabletop and the new dosing stations make sure that no water penetrates the machine room during cleaning. "Thanks to the reduced water consumption, the machine can be operated independently from the customer's water system without a separate water connection," explains Kleine-Koenig.
Integrated 100% weight control for pellets and micro-dosed powders
The GKF 720 is designed for processing powders, pellets and tablets. For pellets and micro-dosed powders in particular, it features a patented, automatic heightadjusting pellet station and a manually height-adjustable dosing disk. Together with the Net Weight Detection System (NWDS) and the integrated gravimetric checkweigher, these features allow consistent in-process control (IPC). The regular adjustment of dosed amounts via IPC ensures a stable, capacitive measuring process throughout the production cycle. "Depending on the product properties, the NWDS can achieve and constantly maintain a high measurement capacity – with a relative standard deviation of less than one percent," says Kleine-Koenig.
Highly modular for quick product changes
The GKF 720 is equipped with an extremely flexible plug-and-play station, which supports rapid switching, for instance from pellets to powders. "For our customers, the growing trend toward dosing different solids in small batches of capsules means frequent product changeovers at relatively short intervals," says Kleine-Koenig. "The machine's modular design offers them the highest possible flexibility: the system can be converted in less than five minutes. Moreover, the exchange of the modules is so simple and failsafe that even an inexperienced operator can do it."
Extended service portfolio supports with process optimizations
Customers can also take advantage of an extended range of services for the GKF 720. In addition to operator training and the proven after-sales services, Bosch also offers an Engineering Pharmaceutical Service (EPS) for process optimization. Here, Bosch experts share their extensive product expertise, for example in dosing difficult products.
Bosch at the Achema: hall 3.1, booth C71
Based in Waiblingen near Stuttgart, Germany, and employing 6,300 associates, the Bosch Packaging Technology division is one of the leading suppliers of process and packaging technology. At over 30 locations in more than 15 countries worldwide, a highly-qualified workforce develops and produces complete solutions for the pharmaceuticals, food, and confectionery industries. These solutions are complemented by a comprehensive after-sales service portfolio. A global service and sales network provides customers with local points of contact.
More information is available online at www.boschpackaging.com
The Bosch Group is a leading global supplier of technology and services. It employs roughly 400,500 associates worldwide (as of December 31, 2017). According to preliminary figures, the company generated sales of 78 billion euros in 2017. Its operations are divided into four business sectors: Mobility Solutions, Industrial Technology, Consumer Goods, and Energy and Building Technology. As a leading IoT company, Bosch offers innovative solutions for smart homes, smart cities, connected mobility, and connected industry. It uses its expertise in sensor technology, software, and services, as well as its own IoT cloud, to offer its customers connected, cross-domain solutions from a single source. The Bosch Group's strategic objective is to create solutions for a connected life, and to improve quality of life worldwide with products and services that are innovative and spark enthusiasm. In short, Bosch creates technology that is "Invented for life." The Bosch Group comprises Robert Bosch GmbH and its roughly 440 subsidiaries and regional companies in 60 countries. Including sales and service partners, Bosch's global manufacturing, engineering, and sales network covers nearly every country in the world. The basis for the company's future growth is its innovative strength. At 125 locations across the globe, Bosch employs 62,500 associates in research and development.
Contact:                                                                                                    Contact person for press inquiries:
Benedict Kleine-Koenig,                                                                           Nicole Koenig,
phone: +49 162 4096205                                                                          phone: +49 7951 402-648
More from Cleaning Products & Equipment