Bosch Packaging Technology Presents Laboratory Devices for Process Technology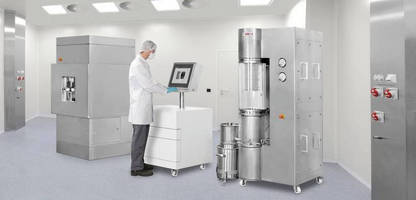 FRANKFURT/MAIN – From October 22 to 24, 2013, Bosch Packaging Technology, a leading supplier of processing and packaging solutions, presents a selection of laboratory devices for solid dosage forms from its product brands Hüttlin and Manesty at CPhI Worldwide in Frankfurt/Main, Germany. The two process technology specialists for the pharmaceutical industry are part of the Bosch Packaging Technology portfolio since 2011. Hüttlin GmbH based in Schopfheim, Germany, presents its high-shear mixer granulator Hüttlin Mycromix at CPhI. Manesty operates under the name of Bosch Packaging Technology Ltd. with headquarters in Knowsley, Great Britain, and offers customized and highly flexible tablet presses and coaters. Together, Hüttlin and Manesty showcase one of their joint developments, the laboratory device Solidlab 2. The exhibited devices and many more are available for customers to test both equipment and formulations in laboratories at different sites.



Joint know-how for all process steps

Flexibility, ease of use and cost effectiveness are particularly important when developing products in the laboratory. This is why Hüttlin and Manesty have joined their know-how and developed the laboratory device Solidlab 2. The compact and modular machine combines several process steps in a small space: drying, granulating and coating in the fluid bed, as well as tablet coating in the coater. The modules can be used individually and contain the entire periphery such as inlet and exhaust air handling, sensor technology and control system.



Hüttlin Mycromix is the smallest high-shear mixer granulator in the laboratory equipment range. It handles batches from 0.05 to 4 kilogram. The bottom drive unit Hüttlin Gentlewing ensures highly homogenous mixing qualities for granulates. All processes can be easily transferred to production equipment via scale-up.



With the Manesty Xpress range of tablet presses, Bosch Packaging Technology fulfills the pharmaceutical industry's needs for flexibility and safety, as well as low investment and operation costs. The Manesty Xpress product range consists of both single and double-sided rotary tablet presses as well as a WiP option (Wash in Place) allowing for flexible tablet production of small, medium and large batch sizes. The machines feature an ergonomic design, short product changeover times, high product yield and Overall Equipment Effectiveness (OEE).



Covering all process steps: Bosch laboratories around the world

Bosch Packaging Technology provides laboratories worldwide where customers can test machines and formulations on-site. Bosch experts support customers during the entire development process of pharmaceutical products, right through to the start of production. The laboratory in Schopfheim is equipped with a range of machines that cover all process steps from mixing and granulating, drying and coating through to pressing and coating of tablets and pellets, as well as capsule filling. The laboratory in Knowsley specializes in pressing, coating and testing of tablets. In Waiblingen, Germany, the laboratory focuses on the development of optimal dosing techniques, for instance in hard gelatine capsules. Further small laboratories are being established at different sites across the globe for testing and feasibility studies.



The technologies from Bosch are on display at booth 41H30 in hall 4.1 in Frankfurt/Main, from October 22 to 24, 2013.



Contact:

Sandra Petrovic,

phone: +49 7622 6884 210



Based in Waiblingen near Stuttgart, Germany, and employing 5,000 associates, the Bosch Packaging Technology division is one of the leading suppliers of process and packaging technology. At over 30 locations in more than 15 countries worldwide, a highly-qualified workforce develops and produces complete solutions for the pharmaceuticals, food, and confectionery industries. These solutions are complemented by a comprehensive after-sales service portfolio. A global service and sales network provides customers with local points of contact.



Additional information is available online at www.boschpackaging.com



The Bosch Group is a leading global supplier of technology and services. In fiscal 2012, its roughly 306,000 associates generated sales of 52.5 billion euros. Since the beginning of 2013, its operations have been divided into four business sectors: Automotive Technology, Industrial Technology, Consumer Goods, and Energy and Building Technology. The Bosch Group comprises Robert Bosch GmbH and its roughly 360 subsidiaries and regional companies in some 50 countries. If its sales and service partners are included, then Bosch is represented in roughly 150 countries. This worldwide development, manufacturing, and sales network is the foundation for further growth. Bosch spent some 4.8 billion euros for research and development in 2012, and applied for nearly 4,800 patents worldwide. The Bosch Group's products and services are designed to fascinate, and to improve the quality of life by providing solutions which are both innovative and beneficial. In this way, the company offers technology worldwide that is "Invented for life."



Further information is available online at www.bosch.com and www.bosch-press.com, http://twitter.com/BoschPresse.





More from Architectural & Civil Engineering Products