Bosch Highlights Expertise in Various Hygiene Levels for Liquid Food Filling and Packaging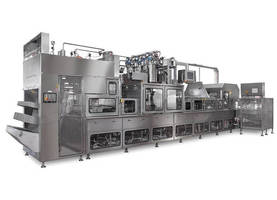 Anuga FoodTec 2015   Complete packaging solutions for high product protection Daily expert presentations on clean, ultra-clean and aseptic filling Ampack inline cup filling machine for flexible production of dairy products PET blowing for on-shelf differentiation and efficient production.



Cologne – At Anuga FoodTec 2015, Bosch Packaging Technology showcases its extensive expertise in dosing, filling and packaging technology for high product protection of liquid and viscous food, including dairy, baby and clinical foods. Bosch will provide insight into various hygiene filling levels with daily expert presentations on the booth. On show are an Ampack inline cup filling machine for ultra-clean filling of dairy products as well as a linear PET container blowing module for dairy products and non-carbonated beverages.



An expert guide to hygienic filling



At Anuga, Bosch will host daily presentations for dairy and liquid food producers from 10:30am – 11:30am, sharing its expertise on clean, ultra-clean and aseptic filling technologies to suit different product requirements. The sessions will cover the entire production process, from appropriate sterilization technologies, such as hydrogen peroxide, UV light, pulsed light and steam to filling systems for different product characteristics. Transportation and storing requirements, such as inside or outside of cooling chains, will also be addressed.



"With over 50 years of expertise in food protection, our aim is to not only develop technologies capable of achieving even the most stringent hygiene levels, but also to share our experience to help our customers find the most appropriate solutions for their needs," said Peter Müller, industry expert at Bosch Packaging Technology.



Flexible decontamination and filling of dairy products in pre-made cups

At the show Bosch presents its Ampack AF 8/8 inline cup filling machine dedicated to the needs of dairy, baby food and clinical food manufacturers. The machine can be equipped with either pulsed light or hydrogen peroxide as a cup decontamination system for ultra-clean applications to suit customer and product requirements. Pre-assembled cell-plates for two different diameters allow for fast changeovers in 15 minutes. This not only increases format flexibility for different cup shapes and sizes, but also reduces changeover and cleaning times. All major movements are propelled via servo motors, enabling quick and easy adjustments to the set-up, enhancing overall equipment effectiveness (OEE) and enabling speeds of up to 40 cycles per minute. Stations for additional features, such as snap-on lids, can be easily integrated, further enhancing flexibility.



PET blowing for material savings and shelf differentiation

For dairy and beverage producers seeking to minimize material use and energy consumption while still providing a wide range of package shapes and sizes for differentiation at the point of sale, Bosch will showcase its linear PET blowing module. With speeds of up to 32,000 containers per hour, it can be combined with hygienic filling technologies for aseptic applications such as dairy-based yogurt and coffee drinks. Other application examples are mineral water and further non-carbonated beverages. The machine produces lightweight, thin-walled containers with the smallest bottle neck rims on the market, reducing material requirements and costs. An intermittent step-by-step production feature ensures high flexibility, access to multi-flavour simultaneous production and the production of short neck bottles with lid closure.



Flexible packaging solutions for dry food products

For the packaging of dry free-flowing products such as coffee or tea, Bosch offers customized and modular vertical form fill and seal machines allowing for high flexibility and a broad variety of pack styles and top closures. When looking for packaging solutions regarding flour or sugar, the new mandrel-wheel machine concept and its design provide a high degree of flexibility by shortening size changeover times. The portfolio is completed by product protection systems such as valves and fully integrable equipment including hygienic auger fillers as well as checkweighers.



New cartoning machine for large-scale formats

Visitors to Anuga FoodTec will also see a world premier from Bosch's secondary packaging portfolio. Based on the proven technology of its bag-in-box lines, Bosch has developed the new CFC 2012 horizontal cartoning machine for the food industry. The CFC 2012 is designed for large-scale secondary packaging formats, for instance for cereals. Even for the largest format size, the machine achieves an output of up to 200 folded cartons per minute. Thanks to automatic format adjustments by servo motors, the machine ensures fast and easy format changes. The user-friendly control system further optimizes the infeed and packaging process. Due to reliable rotation and carton pick-up systems, the CFC 2012 allows for safe handling of all carton types.



Band Sealers for high quality bags in many formats

Additionally, Bosch will exhibit two semi-automated band sealers from the Doboy line for the European market. They seal pre-made bags and provide an economical alternative for low quantity applications at the highest quality standards. The band sealers can be used for smallest goods weighing only a few grams up to large volumes of several kilos, and can be customized according to customers' requirements. They reliably pack food products, such as meat, vegetables, fruits, spices, sweets and food supplements.



Tailor-made service portfolio

Also at the show, Bosch will showcase its comprehensive after-sales services portfolio. Machine upgrades and modernizations enable customers to flexibly adapt their existing equipment to new market requirements. Bosch demonstrates how tailor-made service packages support customers in achieving maximum output and minimum downtime, ultimately resulting in higher profitability of their packaging machines.



Presentations

To attend one of the daily presentations and learn more about Bosch's technologies for product protection visit Bosch at Anuga FoodTec in Cologne, Germany, March 24 to 27, 2015 in hall 7, booth D10 – E19.



Bosch will also host a media event offering expert insight into dosing, filling and packaging technology for liquid and viscous food at 12.30pm on Tuesday, March 24. Lunch will be served and a QA session will follow.



Contact:

Sandra Petrovic

phone: +49 711 811-57479



Based in Waiblingen near Stuttgart, Germany, and employing 5,600 associates, the Bosch Packaging Technology division is one of the leading suppliers of process and packaging technology. At over 30 locations in more than 15 countries worldwide, a highly-qualified workforce develops and produces complete solutions for the pharmaceuticals, food, and confectionery industries. These solutions are complemented by a comprehensive after-sales service portfolio. A global service and sales network provides customers with local points of contact.



Additional information is available online at www.boschpackaging.com



The Bosch Group is a leading global supplier of technology and services. According to preliminary figures, its roughly 290,000 associates generated sales of 48.9 billion euros in 2014. Its operations are divided into four business sectors: Mobility Solutions, Industrial Technology, Consumer Goods, and Energy and Building Technology. The Bosch Group comprises Robert Bosch GmbH and its more than 360 subsidiaries and regional companies in some 50 countries. If its sales and service partners are included, then Bosch is represented in roughly 150 countries. This worldwide development, manufacturing, and sales network is the foundation for further growth. In 2014, Bosch applied for some 4,600 patents worldwide. The Bosch Group's strategic goal is to deliver innovations for connected life. Bosch improves quality of life worldwide with products and services that are innovative and spark enthusiasm. In short, Bosch creates technology that is "Invented for life."



Further information is available online at www.bosch.com and www.bosch-press.com, http://twitter.com/BoschPresse.



More from Fasteners & Hardware