Bosch Expands Colt(TM) Palm Router Line with 10 New Accessories and PR20EVSNK Installer's Kit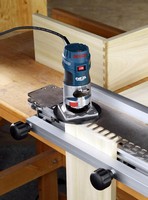 Mount Prospect, Ill., October 4, 2006 - The Bosch 1.0 HP Colt(TM) Palm Router (PR20EVSK) forever changed the way woodworkers and contractors look at routers. Bosch recently expanded the Colt platform with the addition of 10 new accessories designed to increase the tool's versatility as well as the new multi-base PR20EVSNK Colt Palm Router Installer's Kit.

These 10 new palm router accessories expand the routers capabilities to accomplish many common tasks:

PR001 Fixed Base for those who need additional fixed bases
PR002 Fence-Style Edge Guide for edge forming and slot-cutting with non-piloted bits
PR003 Roller Guide for edge trimming with non-piloted bits
PR004 Offset Base with Quick-clamp System to rout near vertical surfaces, such as kitchen counter backsplashes; includes spindle-lock, self-releasing collet, and forged wrench for easy bit changes and depth adjustment
PR005 Tilt Base with Quick-clamp System features quick adjustment detents for common angles and enables laminate trimming at angles or adjacent to vertical surfaces
PR006 Underscribe Attachment enables precise laminate trimming at seaming locations
PR007 Side-Handle Subbase with Dust Extraction Hood offers extra support when edge-forming, enables a cleaner work area with its detachable hose port for vacuum cleaner connection, and is constructed of clear material for added visibility
PR008 Base Cover provides extra insulation from heat in heavy-use situations
PR009 Large Round Phenolic Subbase that accepts Bosch RA-style templet guides
PR010 Large Round Phenolic Subbase that accepts common threaded templet guides

PR20EVSNK Colt Palm Router Installer's Kit

The new Bosch PR20EVSNK Colt Palm Router Installer's Kit incorporates the PR20EVS router motor, fixed base, edge guide, roller guide, offset base, tilt base, underscribe attachment, and carrying case. Another clear step beyond anything ever experienced before from small routers, the new kit is ideal for installers of all types, including installers of kitchens and baths, cabinets, custom furniture, and store fixtures; plus countertop fabricators and even serious DIYers.

At 1.0 HP (max) output and 5.7 AMP, the Colt Palm Router leads its class in power. The PR20EVS boasts a speed range of 16,000 to 35,000 RPM for materials and tasks that require speed and flexibility. Soft-start reduces start-up torque, while Constant Response(TM) electronics maintain speed under load for smooth and accurate cuts and overload protection.

Bosch Palm Routers also offer enhanced comfort features. An ergonomically designed motor housing, padded with soft-grip on the PR20EVS, comfortably fits in the palm of the user's hand. And Bosch-exclusive finger support pockets provide extra support and control on the front of each tool.

Each router includes the Bosch-invented, and often-copied, quick-clamp system, plus advanced quick macro- and microfine depth adjustment systems. Each saves users significant time and frustration. The rugged aluminum base is durable, solid and precise.

Other features include a spindle lock for easy one-wrench bit changes, self-releasing collet for ¼-inch shank bits, a durable phenolic subbase, imperial and metric fine adjustment scales, angled cord exit and externally accessible brush caps.

About Bosch Power Tools and Accessories:

Bosch Power Tools and Accessories is one of the divisions within the $1 billion, 4,000 employee strong Robert Bosch Tool Corporation, which is the North American branch of the largest power tool and accessory manufacturer in the world, Robert Bosch GmbH. Bosch provides a complete line of corded and cordless power tools and accessories engineered to survive any jobsite and allow professionals to take control of their work. For more information, call toll free 877-BOSCH-99 (877-267-2499) or visit www.boschtools.com.

About Bosch North America:

In North America, the Bosch Group manufactures and markets power tools and accessories, automotive original equipment and aftermarket products, industrial automation and mobile products, security technology, thermo-technology, packaging equipment and household appliances. Bosch employs nearly 23,000 associates in more than 80 primary and 20 associated facilities throughout the region with reported sales of $7.8 billion in 2004. For more information, visit www.bosch.us.

More from Architectural & Civil Engineering Products