Borries Expands Capabilities of Low-Cost MicroLiner Marker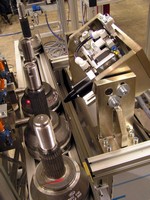 Ann Arbor, MI - Because of the strong demand due to its affordability in automating component marking, Borries Marking Systems has added to the capabilities of its popular MicroLiner compact marker. Recently providing an online version for versatile work piece marking, the marking instrument can generate scribe, stylus or dot-matrix marking (readable by a human eye) as well as ECC200 DataMatrix code marking for reading by automated vision systems. The latest MicroLiner 312 is fully programmable, marking up to four characters per second, offering flexibility for in-line processing, lot control and traceability.

Driven by a high-speed stepper motor and ball screw arrangement, the lightweight marker moves on linear guide rails. Weighing only 6.6 lbs (3 kgs), the marker can be fixed in its mounting for automation situations; or it can be furnished with indexing mechanisms or part holding fixtures. Adds Don Hubchik, U.S. Manager for Borries, "The MicroLiner easily can inscribe a broad range of part geometries and its mounting can be set up in any orientation.

Further, It can be provided with a protective cover for environments that are
dirty or wet," he adds.

The size of the marker is approximately 6½ inches (160 mm) high by 5.9 inches
(150 mm) long by another 5.9 inches (150 mm) in depth. Its controller can generate time and date codes internally, or the MicroLiner can receive marking data from other sources by means of an RS232 interface or via optional RS422, Profibus or Ethernet. Its signal exchanges with the user's automation can be via digital I/O or optional DeviceNet technology.

For more information, contact Don Hubchik, Borries Marking Systems, 3744
Plaza Drive, Suite 1C, Ann Arbor, MI 48108. Telephone 734-761-9549; fax 734-761-1171; e-mail borriesusa@earthlink.net.