Borosilicate and Aluminosilicate Glass Solutions offer EMI shielding.
Press Release Summary: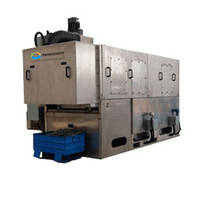 Enhancing product reliability and scratch resistance, Borosilicate and Aluminosilicate Glass Solutions are used on image and biosensors, displays and touch panels. Borosilicate glass solutions are available in 0.3 to 1.1 mm thickness whereas Aluminosilicate Glass Solutions are available in 0.4 to 0.21 mm thickness. Used as bolt or blond in layers, product can accommodate flexible and non-flat formats and offer biocompatible interface.
---
Original Press Release:
Ultra-Thin Glass Protection Enhancement for Sensors & Displays
Abrisa  Industrial Glass, a division of Abrisa Technologies, now offers an even more comprehensive line of ultra-thin borosilicate and aluminosilicate glass solutions for use as protective windows, coating substrates and insulating or chemically compatible barriers for use on Image and Bio Sensors, Displays, Touch Panels and other portable and high contact use devices. Highly flexible substrates of 0.030 to 0.1mm thickness, (the width of a human hair), as well as damage resistant HIE™ Aluminosilicate are now available in even thinner thicknesses of 0.05 to 0.4mm.
According to Lisa M. Tsufura, Product Line Manager at Abrisa Technologies, "Abrisa Industrial Glass now offers the OEM even more choices for ultra-thin glass and damage resistant aluminosilicate to support device designs that seek to reduce weight and achieve low profiles while remaining durable. Ultra-Thin Glass solutions can also be used as 'bolt or bond on" layers; an almost imperceptible yet functional layer to achieve damage resistance or selective optical performance when the underlying material is not well suited or is unable to be survive the processing environment."
Uses for Ultra-Thin Glass Solutions:
Accommodate flexible and non-flat formats
Support low weight/reduced profile designs
Enhance product durability and scratch resistance
Add on anti-reflection, filtering or EMI shielding
Provide a chemical or biocompatible interface
Provide Easy-to-clean oleo/hydrophobic surface
Achieve a "glass look or feel"
Thin Borosilicate and Non-Alkaline Glass Solutions:
AGC - EN-A1 - (0.3mm - 0.7mm from stock, up to 26.3" x 21.6")
Corning® EAGLE XG® - (0.5mm - 1.1mm from stock, 0.3mm on request, up to 61.0" x 52.8" )
Corning® 0211 - (0.145mm from stock, up to 17" x 16")
SCHOTT D263® T eco - (0.1mm - 1.1mm from stock, up to 17.3" x 14.2")
Soda Lime Float - (0.28mm - 1.1mm from stock, up to 48" x 42")
Thin Damage Resistant Aluminosilicate Solutions:
Corning® Gorilla® Glass - (0.4mm - 2.0mm from stock - Strengthened size up to 36" x 29")
SCHOTT AS 87 - (0.07mm - 0.21mm from stock - strengthened size up to 17" x 14")
Other Options:
Material thickness from 0.03 - 0.05mm upon request
Optical Coating and Bus bar Services
Printed epoxy, deadfront, IR transmitting graphics
Easy-to-Clean Oleophobic/Hydrophobic Coatings
Abrisa Technologies' glass and coating Solutions Engineers are ready to discuss your application and provide you with a Total Solution for your Ultra-Thin Glass needs.
Abrisa Technologies is a recognized global supplier of high quality, fabricated glass components, optical thin film coatings, and custom glass solutions for a wide variety of industries. From our US based Abrisa Industrial Glass fabrication facility in Santa Paula, CA and our ZC&R Coatings for Optics division in Torrance, CA we serve diverse industries such as microelectronics and displays, semiconductor, military, automotive, aerospace, medical, biomedical and scientific R&D. We provide custom specialty flat glass and coating products for applications such as: flat panel display, touch and gesture recognition; visible to IR imaging and surveillance; entertainment, indoor and outdoor lighting; advanced instrumentation; and photonics.
Abrisa Technologies
200 S. Hallock Dr.
Santa Paula, CA 93060
805-525-4902
http://abrisatechnologies.com/
Lori Appel
Abrisa Technologies
Marcom Manager
Contact This Company Download Spec Sheet
More from Materials