Boring Tool System supports seal ring groove machining.
Press Release Summary: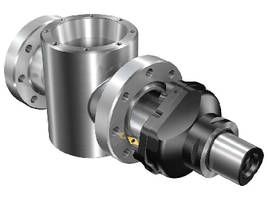 Used with CoroBore® XL System, SpiroGrooving™ utilizes spirograph tool path to create close-tolerance seal ring grooves. Parts of insert cutting edge have interrupted cutting behavior, eliminating long chips that can tangle tool and spindle. With internal coolant feature, CoreBore XL solution is suited for making seal ring grooves in pre-clad machining of steel and stainless steel components. Roughing and finishing are carried out in same operation, maximizing productivity.
---
Original Press Release:

SpiroGrooving(TM) - Revolutionizing Solution for Seal Ring Groove Machining



SpiroGrooving™ - an innovative method for seal ring grooves developed by Sandvik Coromant ensures high output of quality components and meets tough security demands. Used with the CoroBore® XL system, the method utilizes a spirograph tool path to create close-tolerance seal ring grooves in a very secure and productive way.



Machining challenges

Seal ring grooves are a critical feature on many oil and gas components, requiring close tolerances and high-quality surface finish. Conventional methods for machining seal ring grooves often result in slow production and poor process security. Multiple-operation approach, incorporating both roughing and finishing sequences, is another challenge. The tools used are single point- or plunging cutters that are prone to vibration.  Difficult-to-machine materials, such as solid Inconel 718 and cladded Inconel 625, are often used, only adding to the long list of challenges to overcome. SpiroGrooving is a machining method used with the CoroBore® XL system that utilizes a spirograph tool path to create close-tolerance seal ring grooves in a secure and productive way.



High quality and process security

This solution is ideal for making seal ring grooves in pre-clad machining of steel and stainless steel. The unique internal coolant feature of CoroBore XL enables machining in advanced materials. Roughing and finishing are carried out in the same operation, thereby significantly reducing machining time and improving productivity. Altogether, this solution ensures high output of quality components and process security when machining seal ring grooves.



How it works

SpiroGrooving uses a circular spirograph tool movement in a taper. This reduces chip thickness, enabling light cutting action and increased feed. Parts of the insert cutting edge have an interrupted cutting behavior, eliminating long chips that can tangle the tool and spindle. With a unique NC-code generator, SpiroGrooving is programmed in just a few easy steps.



Sandvik Coromant

Sandvik Coromant is a global leading supplier of cutting tools, tooling solutions and know-how to the metalworking industry. With extensive investments in research and development we create unique innovations and set new productivity standards together with our customers. These include the world's major automotive, aerospace and energy industries. Sandvik Coromant has 8000 employees and is represented in 130 countries. We are part of the business area Sandvik Machining Solutions within the global industrial group Sandvik.



Contact details for editorial enquiries

Contact:

Steffen Sander

Tel: 201-310-7363

Email: steffen.sander@sandvik.com

www.sandvik.coromant.com









Related