Boring Heads minimize effect of high frequency oscillations.
Press Release Summary: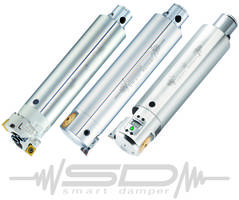 Available in EWN, EWD and SW models with diameter sizes ranging in 1.614-5.906 in., Boring heads come with CKB modular connection. SW rough boring heads are used for making holes of diameters ranging in 1.614-4.331 in. and deliver 660 SFM cutting speed. Featuring .0005 in. diameter setting accuracy, EWN and EWD finish boring heads meets IP69K sealing standards. Boring heads uses smart damper technology for effective absorption of vibration.
---
Original Press Release:
Big Kaiser CKB Boring Heads with Built-In Smart Damper Technology for Fast, Vibration-Free Operations
BIG KAISER is excited to announce three additions to the Smart Damper family of anti-vibration technology – EWN & EWD finish boring heads and SW rough boring heads with the CKB modular connection.
Smart Damper incorporates a passive damping mechanism that functions as a counter action by way of high resonance friction action. The patent-pending system's damping capability minimizes the effects of high frequency oscillations, absorbing vibration effectively and allowing higher machining accuracy.
The modular CKB connection allows for an array of standard shanks and extensions to be adapted with the heads to create "custom" tools to extend over 16 inches, maintaining damping near the cutting edge and managing vibration in long-overhang setups.
The heavy-duty SW twin-cutter head with integral Smart Damper, for rough boring holes Ø1.614"-4.331", efficiently creates deep bores into iron or steel workpieces quickly, quietly and most importantly without vibration or chatter. This means that faster machining and higher productivity rates are possible.
The SW Smart Damper can operate at cutting speeds of up to 660 SFM in steel at a length of 8xD without chattering. This is four times faster than the 165 SFM maximum chatterless cutting speed attainable with the standard SW heads.
Moreover, the SW Smart Damper can perform two roughing operations without needing to change any components due to individually adjustable insert holders with a unique design element. Balanced cutting for high speed operations where inserts are of the same diameter and length, and stepped cutting for high stock removal where the insert holders are simply reversed to create diameter and height offsets.
For finish boring, tests have shown that with our new our high-precision mid-size diameter boring head types EWN and EWD with Smart Damper technology, deep holes free of vibration can be bored with dramatic improvements in time and accuracy. For example, with a projection length of 16 inches and working in steel, a cutting speed of 1,500 SFM and feed rate of 6 IPM can be achieved.
The EWN analog heads feature .0005"/Ø setting accuracy, with .0001"/Ø possible with Vernier precision. EWD digital heads feature Ø.00005" setting accuracy, and have a seal rating of IP69K – the highest possible. The overall program between three head sizes covers the range of Ø1.614"-5.906". Both head types are coolant-through, and thanks to three different insert holders per head, a wide range of diameters can be processed on each head. For example, between 2.677" and 5.906" for the EWD 68 Smart Damper.
BIG KAISER is a worldwide leader in high-precision tooling systems and solutions for the metalcutting industry that guarantee extreme accuracy and repeatability. Our products are of the utmost quality — manufactured with materials and craftsmanship that enable superior performance. As a member of the BIG DAISHOWA Group (Osaka, Japan), BIG KAISER has grown into a well-recognized global tooling provider, with manufacturing facilities in North America, Europe and Asia.
For more information, contact BIG KAISER, Hoffman Estates, IL at 224-770-2999, e-mail bigkaiser@us.bigkaiser.com or visit www.us.bigkaiser.com.
Contact
Tim Stapula
Marketing Manager
BIG KAISER
224-770-2920
More from Fasteners & Hardware