Boring Bars offer flexibility.
Press Release Summary: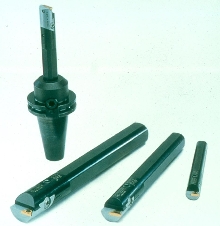 MD Adjustable Boring Bars convert endmill holders into adjustable boring systems. They can be held in collet chucks, however, their 4 flat shank design is best held in end mill holders. Available in 5/8, 3/4, 1, and 1 1/4 in. dia shank sizes, boring bars are adjusted with dial screws. Each graduation moves insert .002 in. on diameter. Available diameters range from 0.71 to 2.37 in. Features include cantilevered dovetail design and carbide inserts.
---
Original Press Release:
MD Adjustable Boring Bars Offer Flexibility

Costa Mesa, CA, June 6, 2002. Criterion manufactures one of the most complete lines of boring heads, tools, shanks and adapters on the market today. As a manufacturer of machine tool accessories for over 65 years, Criterion products have become the standard by which others are measured. Criterion has used the motto, "From the Spindle to the Cutting Edge..." for a number of years. We wanted everyone to know of our capability to provide everything from the toolholder to the cutting tool. We have been providing products from the spindle to the cutting edge for over 65 years.

Because we have done this for so many years, we sometimes get forgotten in the "New Technology" arena. Criterion has been charging right along with technology. We now want to make sure that everyone knows that. So we are now adopting a new motto "From the Toolroom to the Production Floor..." Our roots are deep and we are not abandoning the toolroom, but everyone needs to know we are also on the production floor.

Everyone at Criterion is dedicated to providing users with the best products, service, and availability whether it's for their spindle, cutting edge, toolroom, or production floor. As such we will be introducing various boring system products that are used on the production floor. The MD Adjustable Boring Bar is a prime example.

MD ADJUSTABLE BORING BARS

MD Adjustable Boring Bars offer the opportunity to quickly convert an endmill holder to an adjustable boring system. These adjustable boring bars can also be held in collet chucks, although the 4 flat shank design is best held in an end mill holder for maximum gripping strength. The MD Adjustable Boring Bars are available in four shank sizes; 5/8", 3/4", 1" and 1-1/4" in diameter.

MD Adjustable Boring Bars are adjusted with easy to read dial screws. Each graduation on the dial screw moves the insert .002" on diameter. The dial screws on the MD Adjustable Boring Bars are not direct reading dial screws. This series of adjustable boring bars covers a range of 0.71" to 2.37" in diameter.

UNIQUE DESIGN FOR RIGIDITY

MD Adjustable Boring Bars use a unique cantilevered dovetail design to give maximum rigidity to the cutting edge. This unique design gives peak performance even when it's in its fully extended position. The easily accessible top locking screw firmly secures the insert holder when boring.

STANDARD CARBIDE INSERTS

The MD Adjustable Boring Bars use industry standard inserts. New insert holders will be introduced in the near future to increase the selection of inserts available to be used in this product.

CRITERION MACHINE WORKS

Criterion Machine Works manufactures a complete line of boring heads, tools, bars, shanks and adapters. A manufacturer of machine tool accessories for over 65 years, Criterion's products are readily adaptable to most machines. Manufactured from premium alloy steels, Criterion offers the customer the highest quality and performance available. As such, it has become the standard by which others are measured. Corporate headquarters are located at 765 West 16th Street, Costa Mesa, CA 92627.

See us at IMTS, booth E-2584
More from Mechanical Power Transmission