Bore Gauge provides durable inspection solution.
Press Release Summary: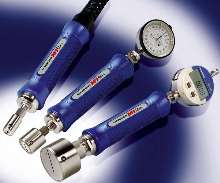 M1 Star(TM) MBG mechanical bore gauge checks ID and ovality or taper of through, blind, and super blind bores. Mechanical measurement-transmission system lasts over 10,000,000 measuring cycles and interfaces with any dial indicator, digital indicator, or pencil probe. Application range is 0.12-11.81 in. Modular measuring head facilitates retooling with removable nosepiece and contacts.
---
Original Press Release:

Marposs Introduces New M1 Star(TM) Mechanical Bore Gauge at IMTS


New, highly advanced measuring plugs provide durable, flexible and economical solution to the inspection of bore diameters.

Chicago, Ill., Sept. 8, 2004 - Marposs Corporation is introducing its new line of M1 Star(TM) MBG mechanical bore gauges as part of its comprehensive display of shop-floor solutions for measurement, inspection and process control at IMTS 2004 in booth D-4514.

The new M1 Star MBG Mechanical Bore Gauge is the ideal manual mechanical instrument for the precision checking of I.D., ovality or taper of through bores, blind and super blind bores. The M1 Star MBG features a unique mechanical measurement-transmission system that ensures excellent metrological performance, reliability and ease of maintenance. The measuring transmission system, that represents the core of the product, is designed to last for over 10,000,000 measuring cycles and it allows interfacing with any dial indicator, digital indicator or pencil probe. The application range is 0.12" to 11.81" (3 to 300 mm). Accessories available for use with the M1 Star MBG allow measuring at depths up to 500 mm, measuring of 90-degree bores, and dynamic cycle (runout) with an indicator.

A key feature of the new M1 Star MBG is the modular measuring head that allows "do it yourself" easy retooling or reconditioning by replacing the removable nosepiece and contacts. Because of the accuracy of the mechanical transmission system, only one master is needed for zero setting.

In addition to the new M1 Star mechanical bore gauge other new products to be introduced by Marposs at IMTS include: the new E9066T thin-panel industrial PC with Quick SPC(TM) software; the new E4N Lite economical electronic column; checking of roundness using the Fenar L in-process gauge for orbital crankpin grinders; a new wheel balancer for high speed grinders; new Instant Productivity Cycles(TM) software for Mida spindle touch probes and laser tool setters; the new M110 opto-electronic flexible measuring machine for shafts; and a new digital Optoquick Set(TM) flexible optical bench gauge.

Additional information on all Marposs products can be obtained free on request from Marposs Corp., 3300 Cross Creek Parkway, Auburn Hills, MI 48326. Toll-free phone 1-888-627-7677. Fax: (248) 370-0621. E-Mail: marposs@us.marposs.com

More from Electronic Components & Devices