Bore Finishing Machine optimizes hydraulic valve finishing.
Press Release Summary: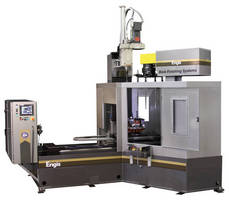 Single-pass, 3-axis system, FPM-3X, can finish stacked valve body bores to cylindricity of 2 microns and diameter of ±1 micron, especially those with multiple bores and bores of different diameters. Full CNC controls offer respective X-, Y-, and Z-strokes of 1,066, 100, and 750 mm; slide base accommodates parts up to 3,000 lb; and 8-13 pocket automatic tool changer lets machine complete bores from rough to finish without operator involvement.
---
Original Press Release:

New System Designed Specially to Improve Valve Finishing



Engis FPM-3X Bore Finishing Machine Improves Geometry, Offers Flexibility

When Finishing Large, Multiple Bore Hydraulic Valve Bodies

Engis Corporation'snew FPM-3Xfinishes bores to a cylindricity of 2 microns and a diameter of ±1 micron. In heavy equipment hydraulic valve applications, the FPM-3X offers greater accuracy compared to conventional honing machines and greater flexibility compared to index-style machines.

WHEELING, Ill.-Manufacturers of earth moving equipment and construction machinery, using large hydraulic valve bodies, are engaged in a global market which demands improved product performance and quality.

A major challenge faced in this industry is the precision finishing of hydraulic valve bores, in particular aligning and finishing the bores once the bodies have been stacked. Engis Corporationof Wheeling, Ill., has engineered a solution to this manufacturing challenge.

Engis has just released a new three axis single-pass bore finishing system, the FPM-3X, which can finish stacked valve body bores to a cylindricity of 2 microns and a diameter of +/- 1 micron, especially those with multiple bores and bores of different diameters.

The FPM-3X features full CNC controls with a Z-stroke of 750mm, an X-stroke of 1066mm and a Y-stroke of 100mm. The slide base can accommodate parts up to 3,000 lbs. An 8 - 13pocket automatic tool changer allows the machine to complete bores from rough to finish without operator involvement. Programming is done via standard G-Code.

Using a systems approach, Engis helps manufacturers optimize bore finishing results by selecting the best combination of superabrasives, tool design, tool holding, part fixturing, cooling/filtration and automation package options.

Links


FPM-3X Web page

FPM-3X literature(PDF)

Bore finishing Web page

Additional Information
Improved Geometry
Traditionally, manufacturers finish each valve individually and then stack valves together. Unfortunately, the torque subsequently applied to the stack distorts bore geometry.

"Valves are the heart of heavy equipment hydraulics," says Engis product manager Robert Marvin. "They coordinate the flow of fluid. Bores with cylindricity problems may experience fluid leakage, premature wear or other failures."

The FPM-3X enables bore finishing after stacking the valves, which improves cylindricity and roundness. To precisely locate the bore under the BT-40 spindle, the FPM-3X uses a wireless Renishaw CMM probe to establish bore location; position information is automatically translated into G-Code coordinates.

Finishing Flexibility
Marvin notes that the FPM-3X also addresses other shortcomings of traditional bore finishing approaches. One approach is to finish the bores on a large indexing machine or in a series of machining cells.

"These options offer good accuracy and throughput, but are usually dedicated to high-volume part runs," he says. "Conversely, the FPM-3X provides significant flexibility. An operator can run a one-off part and change to another part fairly quickly. For companies that want to finish a variety of different parts, the FPM-3X significantly reduces downtime."

The FPM-3X also increases quality compared to conventional bore honing, where the abrasive tool expands. Engis' single-pass process removes material by using progressively larger tools in ever-reducing increments with progressively finer diamond size. Here is a typical hydraulic stack valve application (from an actual case study):

Bore Diameter: 25mm
Bore Length: 245mm
Material: Cast Iron
Number of Bores: 4
Bore Type: Thru
Stock Removal: 0.070mm
Tool #1: 25.020mm Diamond Size: 60/80
Tool #2: 25.034mm Diamond Size: 100/120
Tool #3: 25.039mm Diamond Size: 200/230
Tool #4: 25.041mm Diamond Size: 325/400

Marvin points out that the bore length in this case study is typical. "Most stack valves are between 100 and 300 mm," he says. "To straighten a bore that has a banana shape in it, we need to have diamond tools that are longer than the entire bore to span it. Most machine centers don't have capacity for that stroke length or sufficient depth between part and spindle, but the FPM-3X does."

Note that in other applications, the Engis single-pass process can produce bore geometries to within one-half micron (0.000020") of required bore size by increasing the number of tool passes and reducing diamond size.

About Engis
Engis Corporation, headquartered in Wheeling, Ill., is a leading provider of superabrasive finishing systems andhigh precision micron diamond and CBN powders. Engis solutions include grinding, honing, lapping and polishing products, as well as fully configured, custom-developed manufacturing systems. Industries served include electronics, semi-conductor, medical devices, aerospace, ceramics, mold/tool/die, automotive, mechanical valves/seals, foundries and more.

For more information, visit Engis' Web site at Engis.comor call 800-993-6447 or +1-847-808-9400, e-mail info@engis.com, fax +1-847-808-9403 or write to Engis Corporation, 105 West Hintz Road, Wheeling, Ill., 60090.


More from Agricultural & Farming Products